It seems that a bigger eruption is on its way, what if any effect will this have on
EMI
?
Not to mention the world climate changing...
Iceland Volcano Mt. Katla Next Volcano to Erupt (CLICK HERE FOR ARTICLE)
Now with the increase in volitility in Mt.
Katla residents near the volcano are hurrying to
get ready to evacuate. If we had problems with ash clouds, the economy,
and air travel before with Eyjafjallajökull, scientists say those
problems would look quite minimal in comparison to economic chaos and
stoppage of air travel created if Mt. Katla
erupts, and right now an eruption looks pretty certain.
I think you'd need to be in the vicinity of the lightning strikes to pick up on the discharges with your detector. Volcanic lightning is not entirely understood by scientists but they believe it is caused by friction and static discharge between the particles of ash in the smoke clouds. These are mostly cloud-to-air discharges but some will make contact with the ground
Most lightning occurs within 20 km of the ground and below the stratosphere in an area called the troposphere. But other types of lighting (such as "sprites") can occur at much higher altitudes (<100km). Even NASA were pondering whether sprites might be another form of life as recently as 2002 since some of these energy discharges appear to have a mind of their own.
Any discharge that is carried by the air can sometimes be picked up by metal detectors many hundreds of kms away. I'd doubt that you would pick up such interference if the storm itself is not within line-of-sight from a high place. If this new one blows, it will be a serious problem for those in Northern Europe. But I don't believe it will affect anyone detecting in the lower hemisphere. The discharge is far too distant to be of concern to us. The soot could make its way here to a lesser degree although the only thing we'd see is a prettier sunset or two with a few interesting colors. Same as when an Indonesian volcano went off back in the early 1990s. I really love volcanoes and I find them facinating to visit and photograph but I've lost a lot of good photographic gear and even a few pairs of expensive sneakers that melted on the lava flows that were still active as I walked across the crust above them. It's important to wear sneakers on an active flow so you can feel the heat and avoid the thinner areas... but it's a spooky thing to see what looks like white chewing gum streaming out behind you - the remains of my melting soles. I even had my wife walk a distance behind me and kept the cameras rolling just in case I went through it.
Below is a picture of the big eruption from the recently active Icelandic volcano that made the news and you can clearly see large discharges of lightning in the air as well as lightning in the clouds of ash. If you want to see how big the current eruption is, just take a look at the mountains at the bottom of the picture.
This are MOUNTAINS down there.
And that eruption looks to be child's play compared to the sister volcano that looks to be ready to erupt any moment now.
Cheers,
M.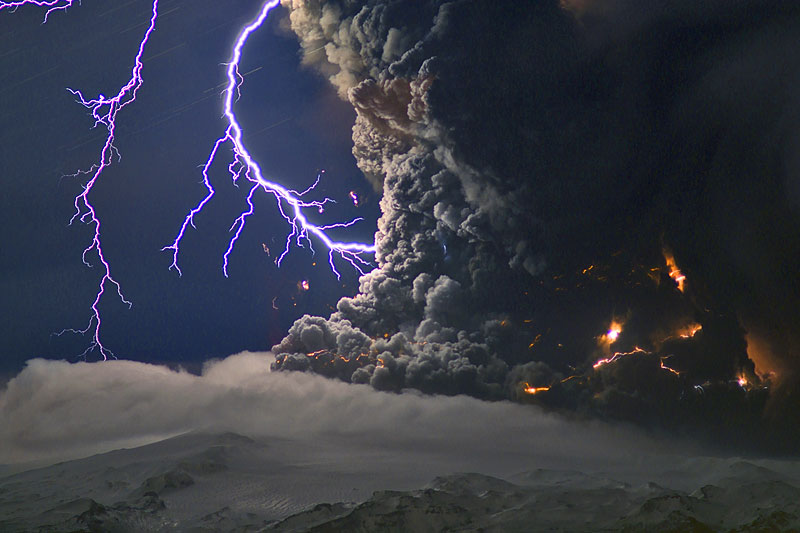 nero_design

Contributor Plus





Number of posts

: 1956


Registration date :

2008-11-18



That's one mean looking pic... the eruption that may occur soon will be as you said much much bigger and scientist believe it will throw ash and particles in the the air which will travel the entire globe. will this ash and particle interfere with our detector? They may carry static charge and cause EMI. Time will tell.

GoldstalkerGPX

Contributor Plus





Number of posts

: 1726


Age

: 93


Registration date :

2009-07-27



Very interesting pics




bessina

New Poster





Number of posts

: 18


Registration date :

2010-02-08



Nice, thanks for posting...


Similar topics
---
Permissions in this forum:
You
cannot
reply to topics in this forum