Chatter wrote:"Literally no gold featured in almost the entire film"  Ahem, bit like some of your so called "full of gold" species a few years back mate. Photos of barren quartz.
I'd like a reply from "Chatter" to this passive-aggressive statement he just posted yesterday - on a thread that might otherwise fly under the radar with other members. He quoted me verbatim so it was clearly a reply to my comment.  Mate, I don't post pics of dogs and label them as cats, but you can feel free to disagree.
Here are those SAME pictures (see below).  
To the Moderators and Admin here: Don't sweep this behavior under the rug. I'd like an answer to my question in reply to "Chatter"'s comment.  And since three of the pictures were of gold found by other forum members that I had photographed, I'd say they deserve an answer as well.  Note that one specimen in these pictures was from a member (and friend) who just announced he is quitting the forum today because he's disgusted with the behavior here.  Might be time to trim the weeds.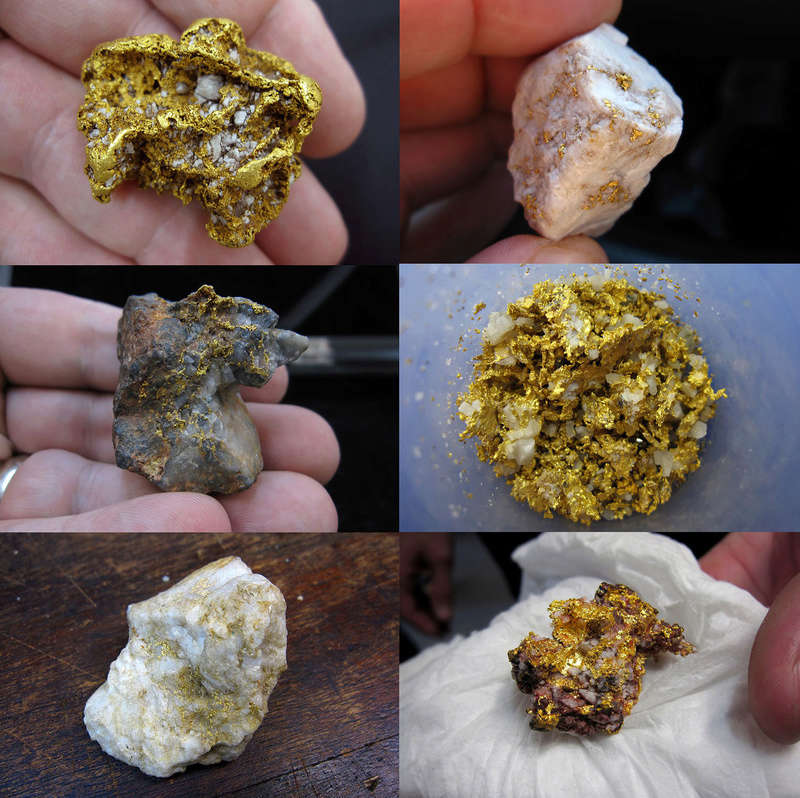 nero_design

Contributor Plus





Number of posts

: 1924


Registration date :

2008-11-18



I agree Nero. It looks like Respect for other Members seems to be waning as many of the current members that have left have suffered abuse and disrespect. I'm glad you have brought this up, for this is the rule of the forum - Respect for Others which is to be adhered to when people join the forum.

We've suffered enough crap so members who disregard this rule will suffer if they disregard it.

Jeff
Obviously barren Quartz

 Call me crazy
 but I pick up all of that barren quartz I can get

, not that you require my approval or anyone else but for what its worth please continue to post, I have always enjoyed your photos and yarns, whats goes on in the mind of some people we will never know

Wayne.


Digginerup

Management




Number of posts

: 2364


Registration date :

2012-05-17




geof_junk

Contributor Plus





Number of posts

: 656


Registration date :

2008-11-11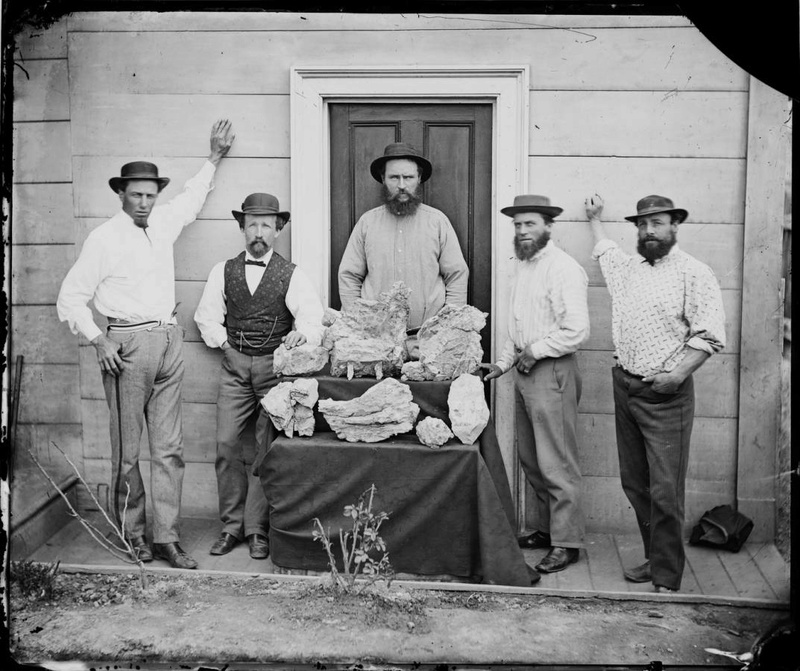 Try accusing these characters of posting pictures of "barren quartz" and see where it would have gotten you in the 1870s.  That's Holterman (second from the Left) in his best Sunday clothes.
It's nice to see some support on this.  It will probably go unanswered but I think it was the sort of thing that ought to have been messaged to me privately back when such an image had triggered any skepticism.  There's only one other massive specimen of quartz that I photographed (found by a member here) which produced a large amount of gold from within.  I photographed the unbroken specimen and my partner calculated the weight.  I then photographed an uncrushed sample from the core (which shows up in one of the pictures above) and personally handled and photographed the many kilos of gold that it produced after it was melted into ingots.  In this instance, I also photographed the ingots in my own hands. I'm going to quote the prospector himself when he replied to my question of "does anyone have any reason to question your amazing find?" (*because the amount of gold involved was so large)... and he replied to me "
Dude, I've had people ask me if I just melted down gold to make the ingots... but I had to point out to them "where the %#@* am I going to find [almost] a million dollar's worth of gold to melt down?
".  I think he has a
very
good point.
There were consequences on the goldfields back in the 1800s for calling a man a liar over a gold find.  One of the reasons people were strung up was because other men could lose their lives chasing gold that wasn't there, based on an idle comment.  There's several accounts when experienced prospectors reported gold-finds but made it VERY clear to those listening that the gold was in "Hard Rock Mining form".  They declared that it was NOT ALLUVIAL and therefore was not suitable for panning or sluice operators... and men still ran out there and died from lack of water/food and couldn't extract the gold because it was (as reported) in a deposit that demanded hard-rock mining.  Upon returning to town, these surviving prospectors occasionally formed a vigilante mob and attempted to string up the discoverers of these goldfields for almost costing them their lives. Even though every detail and warning had been made in advance.
Today, this is unlikely.  But fake specimens and false reports of gold finds can have a serious impact on people wanting to find gold.  Fake claims and fake finds do more harm than good.  The one driving factor for equipment sales in the prospecting industry would be the price of gold.  When it goes up, people start to salivate and drool.  There's always a mini-gold-rush whenever the price of gold spikes.  I've got a thick skin but the constant chipping away at the integrity of forum members is what causes some others to lose interest.  In my case I've simply recorded what I've seen and handled all the specimens myself in my pictures. In some instances it was my own find although I get to handle and photograph much more gold from others who were kind enough to allow me to record their finds. Other forum members have allowed me to repost their images without giving away their names or locations but I've been careful to post only appropriate material and to report back with the exact information they shared with me at the time.
I don't spend long days or weeks out in the goldfields like the more serious prospectors do.  Most of the time I'm usually out for a day and that's just not long enough.  I'm sure most forum members would agree that they tend to do the best when they spend at least a few days on location prospecting.  Detecting (for where I tend to go) is a 5-to-1 odd that I'll come home with rusty rubbish in my pockets rather than nuggets.  But I'm not pushing myself to find gold as hard as I possibly ought to.  For me, I'm there for the enjoyment of it.  Finding gold is just a sweet bonus for me.  If I'm with new-chum friends, I tend to find myself giving them a history lesson and a tour rather than pushing them into hard-to-access high benches or hard-to-reach gullies where gold might reside. If I'm detecting with more experienced prospectors, I still prefer to do my own thing and keep to myself.  I find all sorts of critters to photograph and all manner of fascinating sights.  On the way home, I'm always rescuing wildlife and enjoying the local food.  Every trip to the goldfields is fun for me (except when wasps and stinging ants are involved).  There's really no trip that disappoints me because I can enjoy everything but the intense summer heat and the bitter winter chills.
There's some damned fine prospectors on this forum.  Some are older, some are younger - but they all appear to be attracted to the same subject: Gold.  If other members want to post pictures of quartz and tell me they got good gold out of it, then good for them!  I'd love to see the gold after it was extracted but I'll take their word for it.  I don't doubt that tall tales are often associated with gold.  Sometimes the yarn itself is the gold.  
I try to take clear photographs, I take closeups where possible, I take multiple images of just about everything and I can always post larger shots on request.  If anyone has a question over specimens or minerals I've photographed or found, be they gold or gemstones found by other members or myself, please raise your issues at the time. Not years later. I have NO interest whatsoever in misrepresenting a gold find - either one of my own or one found by other members.  There's no benefit to me to do so and it could cause more harm than good to the industry and the hobby.  
To the members and non-members reading this:  Thank you again for kindly allowing me to record your finds.  I feel that in sharing such images, others will know what to look for, can see the various forms that gold can appear in... and it inspires us in our own ventures.

nero_design

Contributor Plus





Number of posts

: 1924


Registration date :

2008-11-18



I think he was referring to the ones that the blokes found with moss on them and they got a couple of kgs from when you were at miners den a few years ago

koeh

Contributor Plus





Number of posts

: 263


Registration date :

2011-01-31



koeh wrote:I think he was referring to the ones that the blokes found with moss on them and they got a couple of kgs from when you were at miners den a few years ago
Well he might just want to take it up with the manager there who measured, photographed and weighed it with me prior to me posting the pictures here - along with the member from here who discovered it.  And since that was the specimen we could trace the gold through from end to end with a pinpointer prior to heating and crushing, and this was the same specimen that was photographed both crushed and even in the furnace - before yielding the LARGE gold ingots that it produced (2x 7.2kg ingots with a total of just over 14+kg), I'd say the witnesses and the evidence is enough to convince any person of even remotely reasonable intelligence. There's a bunch of other members here who know the prospector who found them, and I don't see anyone else with raised eyebrows. The damned specimen was covered on three sides with mud and on the surface with lichen, even when it was on the floor... so no, there wouldn't have been any gold visible since it wasn't washed prior to firing. It's for this reason we showed pictures of the gold that it revealed in the core after being heated and smashed.
.
I also photographed the multi-kilos of gold extracted from his previous much smaller specimen - which I posted here. I'm going on memory here but there were two crude ingots of 4.3kg after melting.  The last set of nuggets he brought in to show me were what was left over from after selling to his buyers/collectors and those filled several pockets with tens of ounces.  
.
This is the internet.  This isn't some scientific paper or thesis.  We share our discoveries and if people don't wish to believe what they see or read, then that's their problem.  It doesn't hurt to be skeptical but there are plenty of witnesses available to these instances. With the high price of gold and the nature of thieves these days, we should be grateful that the prospector who found this mighty specimen was generous enough to allow us to share the pictures.  I've seen plenty of wonderful items found in the last dozen years but not every proud finder wants their prize to be photographed.  An example that comes to mind was an amazing (and highly prized) 1813 Holey Dollar that was unearthed at Hill End NSW by a guy with an X-Terra 705.  It was the first time someone asked me to inspect but not to photograph a find.  It happens occasionally and all you can do is respect the wishes of the finder.
.
If a member here doesn't want to accept something, then so be it.

nero_design

Contributor Plus





Number of posts

: 1924


Registration date :

2008-11-18



Hi Nero,

Thanks for all the photo's you have posted on the forum. Gold or not. They are all great. I missed the photos you are talking about. But I remember hearing about the story. Some $700,000.00 worth? If memory serves me correctly. And weighing in the vicinity of 73odd KG's for the whole piece of Quartz. Stuff dreams are made of and found next to his previous big find. Crazy stuff.
Please correct me if I'm wrong.

Keep up the good work.

Cheers,
NG.

NeoGeo

Good Contributor





Number of posts

: 90


Age

: 41


Registration date :

2015-05-06



Nero always loved you pictures and stories! Put chatter in the Ignore bin mate. Keep posting you are appreciated! Dave


bubbazoo

Contributor Plus





Number of posts

: 226


Registration date :

2012-10-26



Yeah, I agree. A pic adds so much to a story or just a pic by itself.
Nero, you take good photos and clearly take the time to present the subject in its best light.
Keep up the good work!

Col


Pebbles

Contributor





Number of posts

: 25


Registration date :

2010-06-04



Nero, I have been one of your knockers in the past but before I leave this forum I would like to apologize for the things I have said in the past.

everhopeful

Seasoned Contributor





Number of posts

: 150


Registration date :

2010-05-29



everhopeful wrote:Nero, I have been one of your knockers in the past but before I leave this forum I would like to apologize for the things I have said in the past.
FFS!!

 your still here? you've had more comebacks than Johnny Farnham...........we will have to call you the whispering prospector

, if your so grieved good luck out there and adieu!... otherwise get over it and enjoy the forum brother, too much ado about nothing.
Wayne.


Digginerup

Management




Number of posts

: 2364


Registration date :

2012-05-17



---
Permissions in this forum:
You
cannot
reply to topics in this forum