Can any one tell me what this is. Apparently comes from the Maryborough area.
Mate of mine has them in his garden as a ground cover feature.
The pebbles are around 20-30mm and most of them seem to have this bronzy piece in them.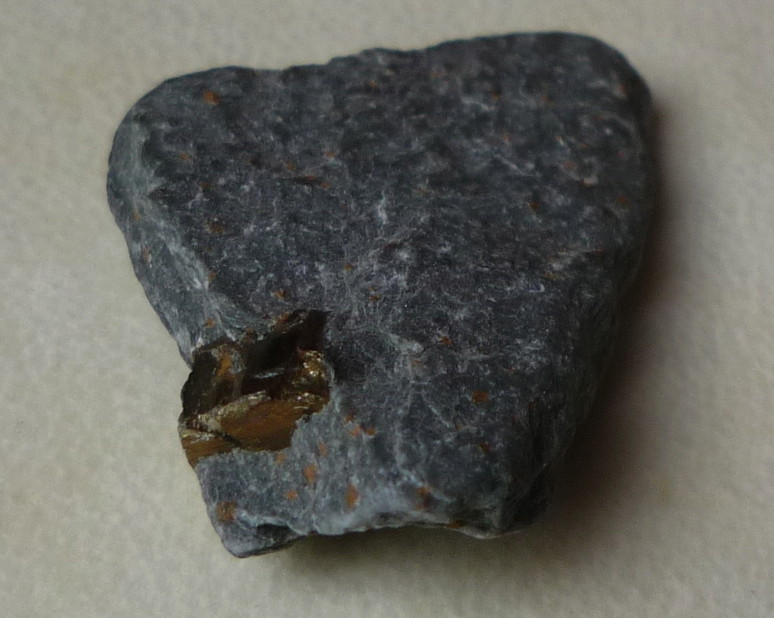 Hi,

The rock looks like slate or a finely bedded stone (claystone / siltstone). The dark colour would suggest that it's not weathered and has come from a mullock heap from an old mine (?). The bronzy crystal looks like pyrite or something similar.

If you want to find out if it is, hit the bronzy thingy with a rock. If it produces a pongy smell (H2S - hydrogen sulphide), then it's pyrite or similar.

Above is just a guess!

Andrew
AK47

AK47

New Poster





Number of posts

: 12


Registration date :

2017-02-07



Broke the bronzy coloured bit open couldn't smell anything but it is a shiny silvery colour inside.
Not sure what the rock is petere but I have seen similar shaley/coal/sedimentary rocks which contain a bleb of iron pyrite in the middle. The pyrite was actually some form of organic fossil that had been pyritized. Around the pyrite the rock often case hardens a little. Your rock could be a shale with pyrite blebs in it that are seeded around some organic inclusions.....just guessing from the one image.

Tributer

Management




Number of posts

: 994


Registration date :

2008-10-27



Cretaceous clay type ... just a guess
Thanks for your input guys, gives me something to work on for further research.
Petere, the brown dots on the outside of your rock are probably iron pyrite specs that have oxidized and are now the mineral limonite.

Tributer

Management




Number of posts

: 994


Registration date :

2008-10-27



My guess it is a piece of Nickel which in one form or another has a bronze like appearance.









---
Permissions in this forum:
You
cannot
reply to topics in this forum