Hi all
The other day I found a few rocks with a lot of shiny golden pieces on it.
I'm pretty sure it's a granite rock. There are also a little bit of iron rust on it.
Can any of you see if it's gold or just something that looks like gold?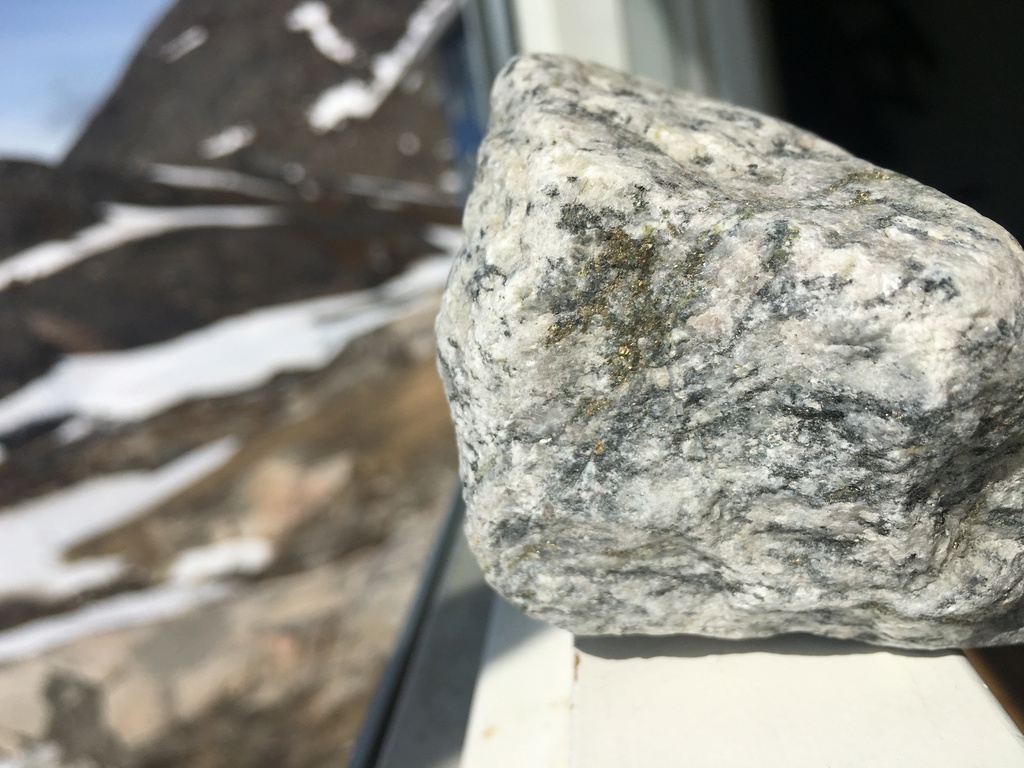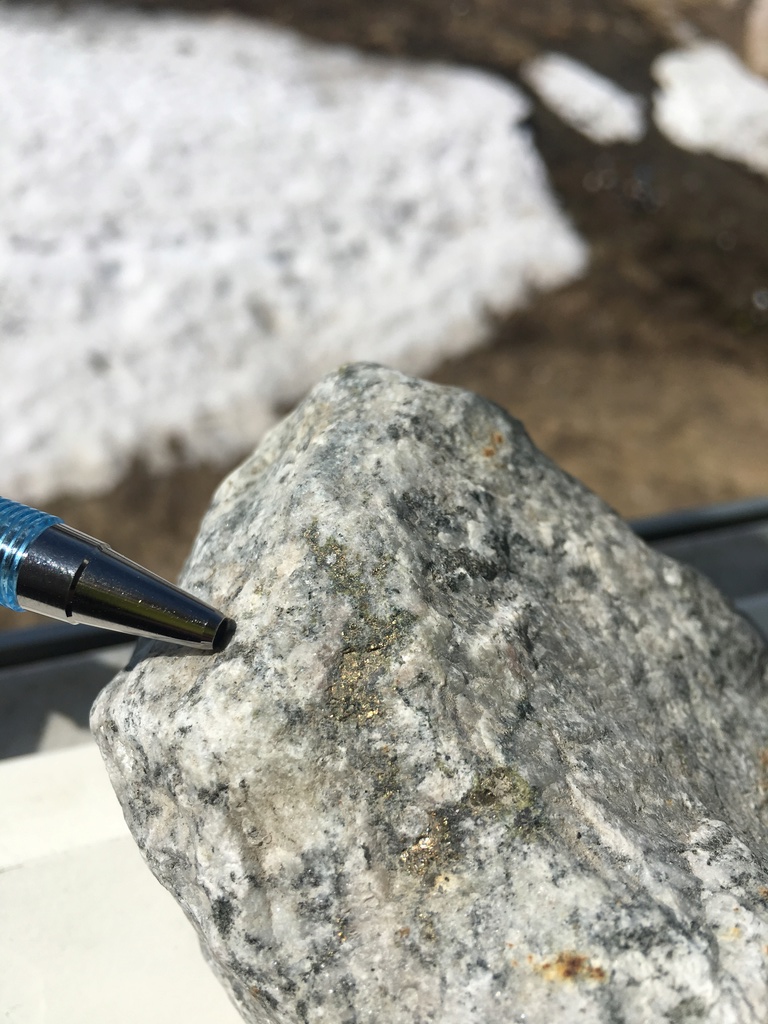 Afterwards I was starting to look at the surrounding area. There are a lot of crack like this filled up with what I think is quartz.
I have never been paying much attention to geology but this got my interest so I might be trying to read up on it and dig around myself.
I know there is a few goldmines and other mineral mines within a 100 miles radius.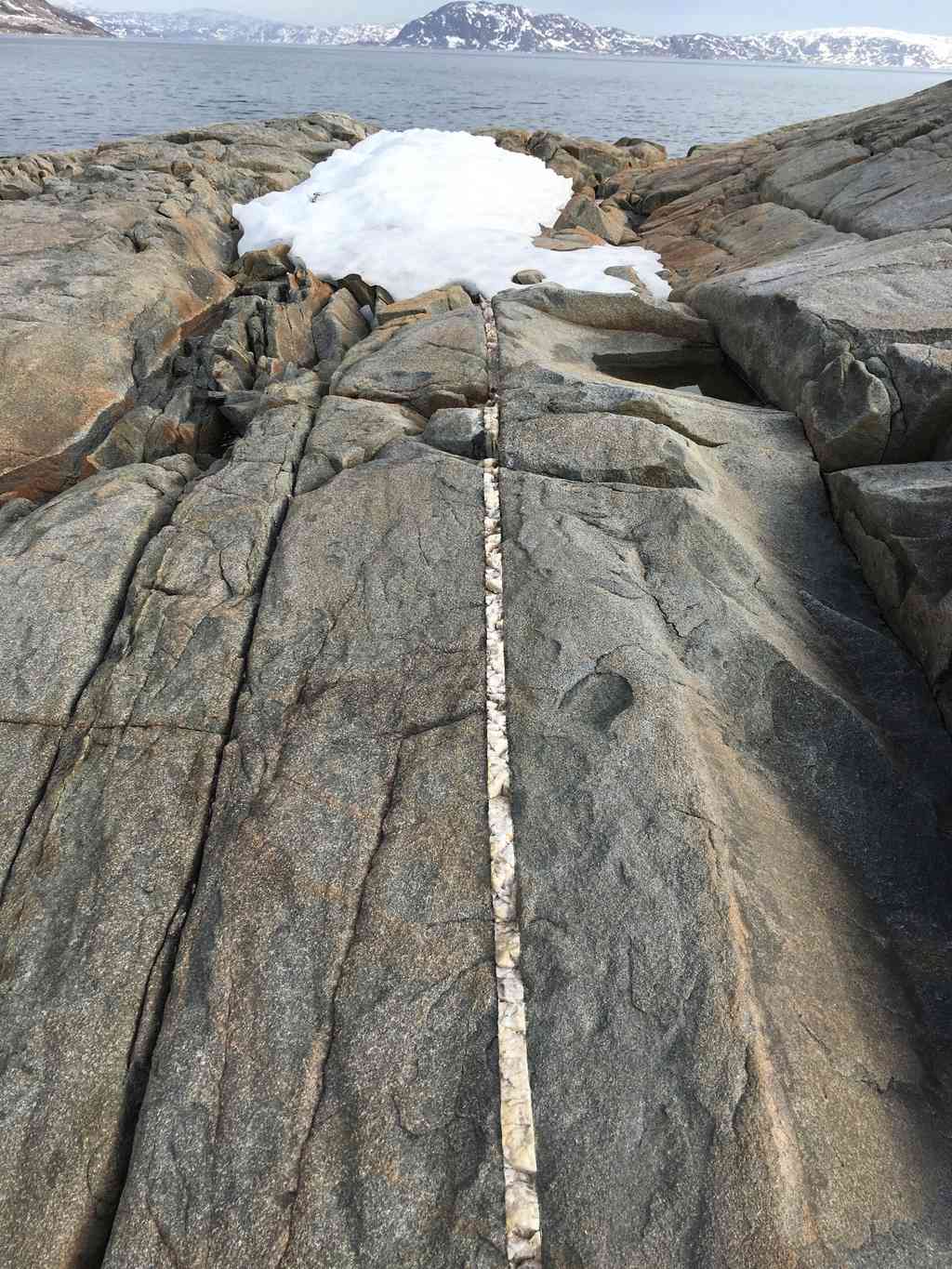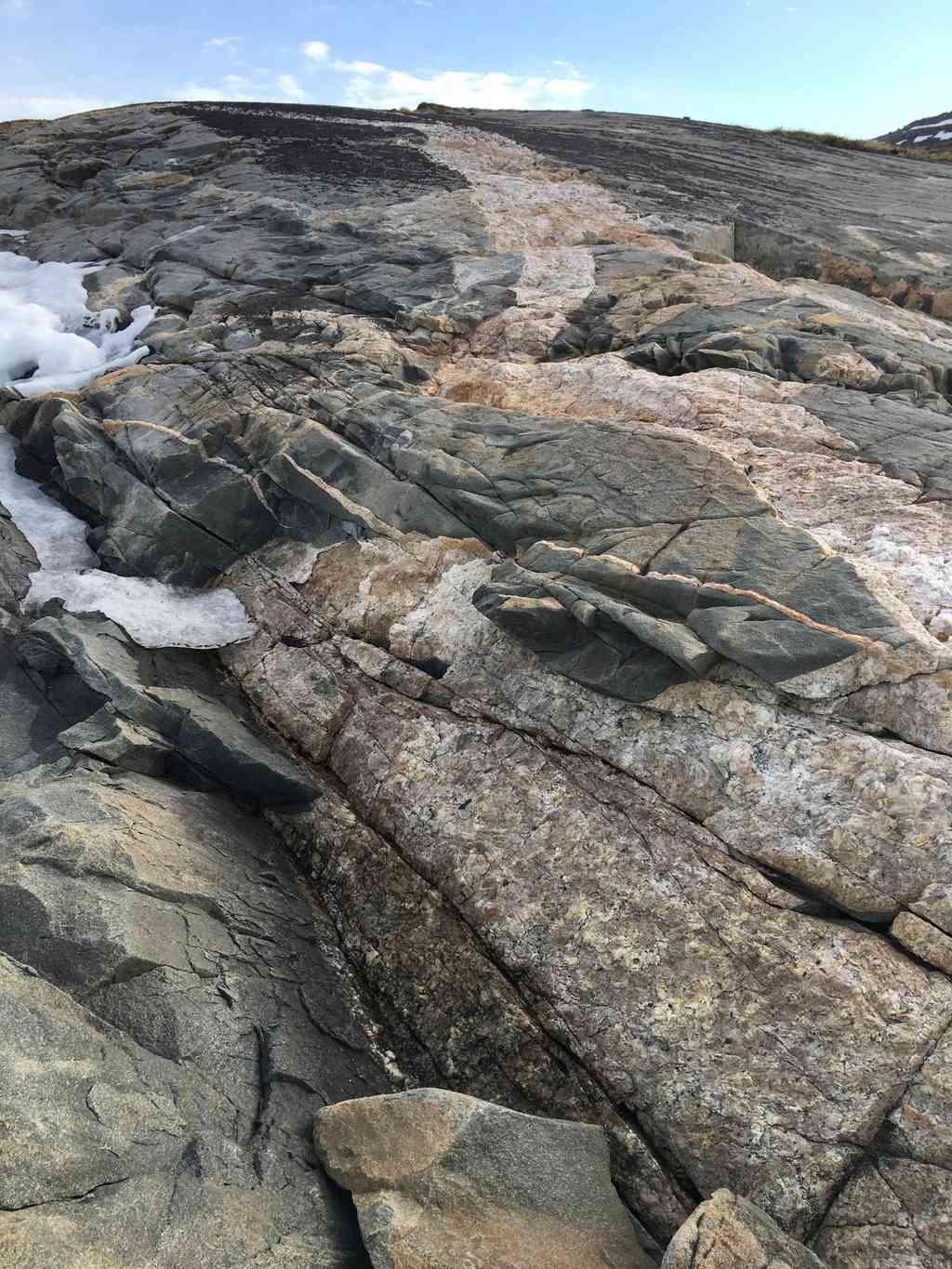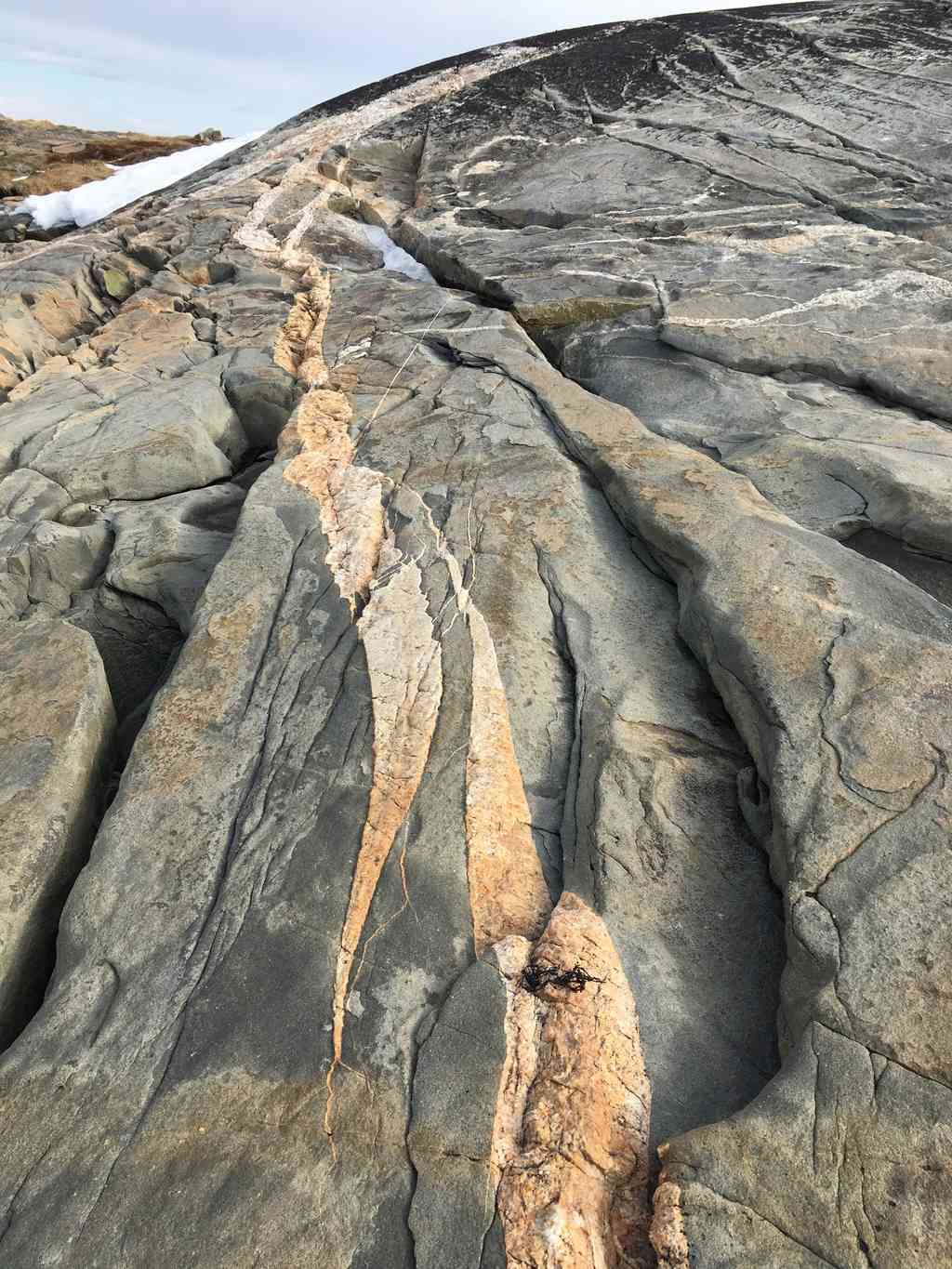 Demigo

New Poster





Number of posts

: 2


Registration date :

2017-05-08



Hi

Looks like just some pyrites (its commonly called "fools gold") , an easy way to tell is using a stainless knife blade see if it scratches off as pyrites is brittle, and if you pound it with a hammer or something it will turn to dust, gold is malleable so if you pound some gold with a hammer it will flatten out, another way are to put it in hydrochloric acid and it will disappear, if its gold it wont.

The quartz veins may carry gold so you will need to inspect it along its length and maybe where you can knap off some of the quartz and dolly it up (crush it in a dolly pot) ,then pan off the sample to see if there are any fines, using a magnifying glass you might even be able to see some gold specks in the quartz, I cant remember the exact figure but the percentage of gold in quartz blows and visible veins is very low something like maybe only 7%,also it might pay you to get on to Google for information and U tube as there are many videos of sampling, crushing and panning you can watch.

If there are mines in the area go and have a look if you can and see if you can determine what they were working on and what the rock and surrounding area looks like, this might give you a better idea of what to look for and help you to better recognise areas with the highest potential rather than wasting time trying to work it out for yourself.

au-fever



au-fever

Seasoned Contributor





Number of posts

: 154


Registration date :

2016-10-22



G'day Demigo and welcome to the forum, you will find plenty of helpful info here.

It looks like Pyrite (fools gold) to me as well, but it also means there is some mineralization going on in tie Quartz veins in the granite rocks.

It also looks very cold there with the ice in the rocks and mountains.

cheers dave

davsgold

Contributor Plus





Number of posts

: 5466


Registration date :

2008-10-25



The pictures you've posted are exceptionally good, making it easier to see what it is that caught your eye.
The specimen does look like it contains pyrite (aka Fool's Gold).  Pyrite is an iron sulfide iron crystal which might also explain why you saw "rust stains" among the minerals.  The color and "chunky" crystalline appearance suggests Pyrite.  Yes, it does occur in the goldfields but it can also occur outside of gold deposits - usually associated with quartz.  It's considered a very common mineral and it has a color that resembles brass rather than gold (native gold is usually more buttery-yellow). But when found in a goldfield, I'm told that often the pyrite deposits will also sometimes contain gold as well.  When mixed with gold, the only way to separate it is to crush and then pan it out. In the sample pictures I've posted here, the bottom sample is mostly Pyrite but I suspect there might be a little gold mixed in there as well.  The slight rainbow hue suggests copper as an inclusion.  In your closeup pictures, the greenish peppering of golden particles near the pen tip strongly indicates a typical Pyrite deposit.  If you chip it with an iron or steel pick, it will throw sparks.  The earliest flint-lock type pistols (called Wheel-Lock pistols) used pyrite specimens to throw sparks when struck. The sparks are bright enough to see in sunlight.  It's possible some bush-fires start when a rock falls down a ledge containing pyrite and throws a spark into dry leaves and grass.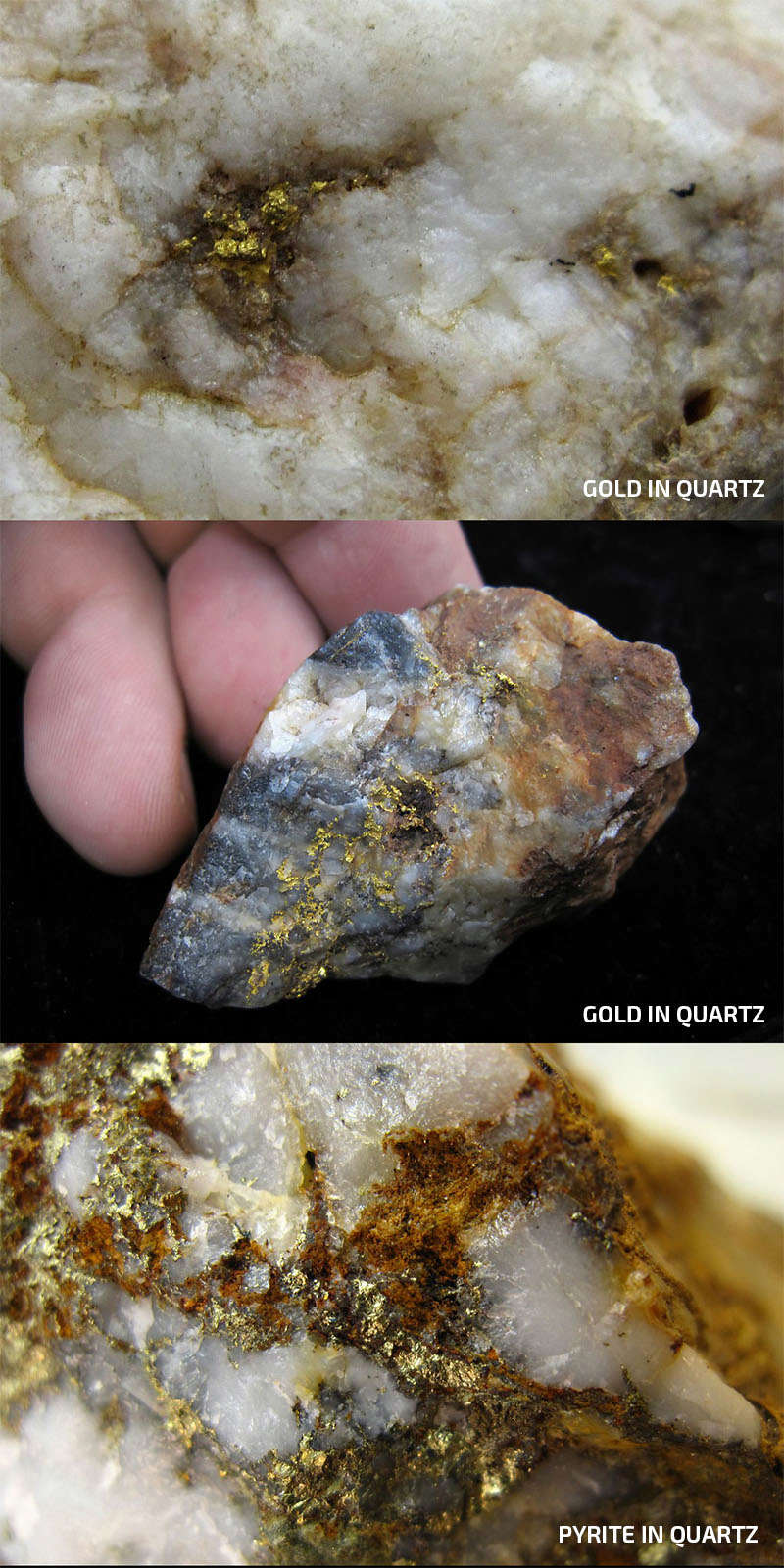 Now the best way to confirm what it is that you've found is to use a hard metal tool like a hammer or perhaps a screwdriver or chisel to try to crush the specimen.  You don't have to crush the whole thing, just some of the "golden" material.  Now real gold will flatten out but it WON'T crumble.  Pyrite will always crumble when crushed by a metal tool or another rock.  Gold will flatten out because it's so malleable.  The Pyrite will also darken or (become duller) as you crush it - whereas gold will retain its bright, metallic yellow color at all times.
I was exploring an old open mine in the goldfields recently with friends (this mine was deemed safe for the public to access and was well aired) and my friend found a golden, sparkling deposit on the walls of the mine.  Now this was a gold mine so they were excited.  But when I used a magnifying loupe to examine the yellow metallic mineral, I could see it was in the form of tiny little cubes.  This was Pyrite.  Pyrite crystals tend to form cubes outside of quartz.  So we knew straight away that it wasn't gold... but everyone was excited when they first saw it.
Another thing you'll notice if the "gold" is in quartz is that the rock will be exceptionally heavy in your hand compared to normal quartz if it contains gold.  Iron Pyrite will also be heavier than normal quartz but gold is heavier than lead so you'll notice the difference when handling the weight in your hand.
My best guess is that you have found Pyrite crystals encased in quartz.  I'd have to look at it up closer but that's what I feel it most likely is... and Dave and au-fever also think that this is what it is. Below is a picture of a specimen of that I chiseled off a larger block of rock out in our local goldfields... and you can see the sparkly bits that resemble your sample. Above it is a sample of local gold found almost two hours drive away by the earliest pioneer prospectors back in the 1870s.  And in that sample the gold is peppered through the quartz but has a very distinct buttery-yellow color and structure.  Now in my sample of Pyrite, I believe there's bit of gold mixed in there but it was hard enough smashing off the sample I took and I don't have the motivation to fire and crush the sample just to see if there's much gold in it.
The quartz reefs you found are very distinct.  Looks cold where you were too.  Your member details indicate you were in the arctic circle.  Keep an eye out for meteorites in the snow!  

nero_design

Contributor Plus





Number of posts

: 1956


Registration date :

2008-11-18



Very good samples and explanation in pictures of the difference between gold in quartz and pyrite in quartz, thanks Nero.

cheers dave

davsgold

Contributor Plus





Number of posts

: 5466


Registration date :

2008-10-25



I have spent time replying to "newbies " and you do not see them any more . No thanks for the time you spent .

Minermike

Contributor Plus





Number of posts

: 1370


Age

: 73


Registration date :

2011-07-25



Thank you. Great images and explanation.


Kurra




Number of posts

: 1


Registration date :

2017-05-07



Hi Everyone
Thanks for all you guidance.
I have been trying to find hydrochloric acid without luck so now I have smashed and scraped instead.
Sure enough as all of you suggested it is pyrite. Most of it turned in to dark powder.
I will go out and have another look around this weekend.
And you are also right it's cold. In daytime the temperature is just above freezing point making the snow melt. Everything was totally covered in snow two weeks ago. It's still so cold that the seawater freeze overnight if there is not too much wind or waves. Taking a few hours of the morning sun to melt again.
But all that a side the nature is just fantastic and everything is just big

Location is Greenland.

Demigo

New Poster





Number of posts

: 2


Registration date :

2017-05-08



There is a doco about greenland called ice cold gold on youtube which was aired on tv here about a year ago which was about a group of men looking for gold and rubies in your back yard.lf l was you ld be looking it up and watching the entire series.They located gold and gemstones.Very beautiful place but hostile enviorment and we think its cold here.Good luck.

thegoldman24

Seasoned Contributor





Number of posts

: 143


Registration date :

2012-04-12



Good luck with your search Demigo, keep us informed.
If it's any consolation there is a colder place on earth, well it was in 2010.

Newly analysed Nasa satellite data from east Antarctica shows Earth has set a new record for coldest temperature ever recorded: -94.7C (-135.8F). It happened in August 2010 when it hit -94.7C (-135.8F). Then on 31 July of this year, it came close again: -92.9C (-135.3F). The old record had been -89.2C (-128.6F).








Is that what they call Global Warming ????

Minermike

Contributor Plus





Number of posts

: 1370


Age

: 73


Registration date :

2011-07-25





Similar topics
---
Permissions in this forum:
You
cannot
reply to topics in this forum