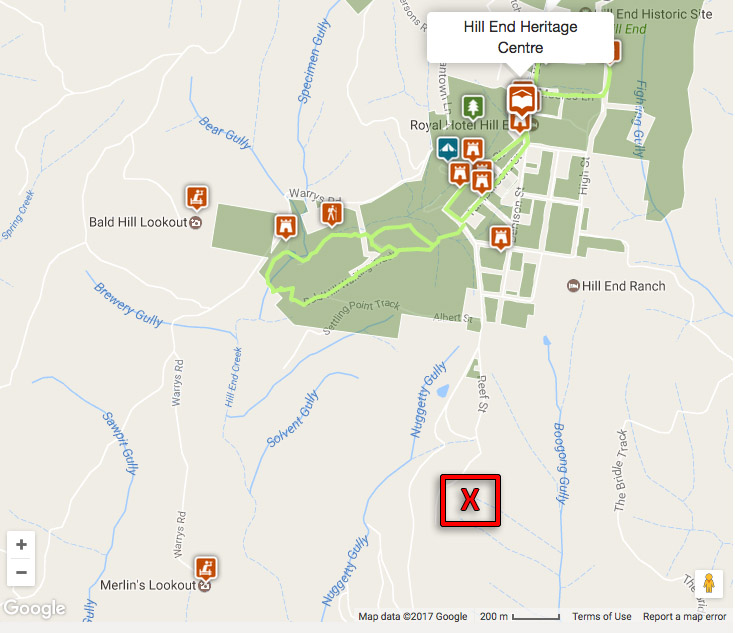 The approximate location of where the person was (see red X on the map).

I spoke with a gentleman this morning who agreed that I could pose this question here as he wanted more clarification. I only tend to stop by Hill End when passing through so I'm unable to define whether or not this is typical behavior in the region.  I tend to pass through there as a visitor and only very rarely stop to detect there when socializing with friends in the area.  
Exchange between a member of the public and a National Parks Ranger (April? 2017)
The visitor was at Hill End (NSW) among the trees on the side of an unsealed dirt-road (see map above for an approximate location) just a few weeks ago - on what is clearly identified as "Crown Land".  A man in a white vehicle with National Parks logo on the side allegedly pulled up on the track nearby and asked him if he was detecting.  He said no and asked who the person was.  The person then identified themselves as being a Ranger and told him he was "
NOT permitted to detect there on Crown Land
".  The person in the car also asked him if he objected to turning his pockets out and being searched, to which he replied "You can bloody try".  The stranger in the vehicle warned him again about detecting in the area, referring to it again as Crown Land, before he drove off.  This incident surprised him so he returned to his vehicle and left.  He wanted to ask me why Parks would prevent him from detecting there when he had avoided the private property and mining lease nearby (which is clearly signposted) and was on Crown Land with no dividing fence indicating it had been leased for private use.  
A couple of years ago, there were reports of someone claiming to be from National Parks in the area on foot who was issuing "fossicking licenses" in the Crown Land under false pretenses.  The person is believed to be a local scammer, preying on new visitors and carefully selecting families who looked inexperienced.   But in this new incident, this individual was in a clearly marked vehicle with the NP logo on the side.  
This may or may not have been an area zoned under the old Hill End Mining EL lease... but the active mine itself has its own signs warning of trespass and those are closer to the town.  But this incident involved what appeared to be a Park Ranger and was clearly on Crown Land.  The nature of any nearby EL lease did not enter into the verbal exchange.
___________________________________________
NOTE: National Parks had recently tried to take over the entire region of Hill End with the interest of converting the massive Crown Land zone into a protected area that would exclude any fossicking. This was aggressively rejected by locals and prospectors who attended to public discussion on the matter in 2012.  I was told NP had been surprised at the angry rejection of their intentions and had backed off.   Has something changed recently?  I know that the visitors center (run by National Parks) at Hill End will send hopeful fossickers way up towards the Tambaroora location several kilometers North of the town.  But this region is under the same Exploration Leases as the location in this particular incident is.  It's also all Crown Land.  There are no signs in any of these regions warning against fossicking.  
I think perhaps that the lack of signage, the constant contradictions and the continued reports of scammers demanding people pay for on-the-spot "fossicking licenses" is leading to an endless cycle of confusion.  The Crown Land at Hill End is quite a large tract of publicly accessible ground.  A quick search online shows many other prospectors have been approached by both National Parks and Mining representatives and thrown off the Crown Land there.  Despite these continual incidents, there are no posted signs other than warnings near the mine boundaries on the Turon side of the township.
Based on what I can see on other internet forum exchanges, the Crown Land outside the Historic Zone at Hill End is no longer publicly accessible for fossicking.

nero_design

Contributor Plus





Number of posts

: 1956


Registration date :

2008-11-18



Hmmm interesting i haven't tried that spot lol.
Ive been out there a few times this year and haven't heard of or come across this person. There is signage in a quite a few areas up on trees stating "fossicking area"

Taipan

New Poster





Number of posts

: 5


Registration date :

2014-05-23



My wife and I detected on crown land up there about 12 months ago, stayed away from the national park precinct and there was no problem. However when it comes to bureacrats nothing would suprise me,
regards Phil

philip.j.thompson

Contributor Plus





Number of posts

: 687


Registration date :

2012-07-24



From your approx. location it would appear that technically he may have still been on the mining lease (ML1541) although not on an active area. ML1541 actually runs from east of Reef St south through to the Turon River then west to Solvent Gully & back north to just past Lees Lane. You can check the boundaries on nswtitles.minerals.nsw.gov.au/nswtitles/
Hill End Gold could stop you from detecting there however National Parks have no jurisdiction over that!

Any unmanaged or unleased Crown Land is ok to fossick/prospect on in NSW. If managed or leased permission should be sought. National Parks have no jurisdiction over that unless it's a National Park, SCA, Nature Reserve etc.!

The Bathurst LGA (Local Government Area) has now been declared (in 2016) a Fossicking District. This removes the requirement to get EL (Exploration Lease) holders permission to fossick/prospect on any land within the LGA. You still obviously need private landowner or the manager or lease holder permission on managed/leased crown. National Parks have no jurisdiction over that!

I was asked to move on once by Hill End Gold prior to Bathurst LGA being declared a Fossicking District. Since then I have had no problems with them & never had an issue with National Parks as I stay out of the NP areas. Never seen or heard of anyone being approached for a dodgy "fossicking licence" either?

If I were the gentleman involved I would be contacting NPWS to clarify it with them (or alert them to someone posing as them).

mbasko

New Poster





Number of posts

: 2


Registration date :

2017-05-14



I would be asking any person claiming to be an Authorised person to show me their Authorisation card which should have a photo of the person, and which legislation it was issued under, and which sections of the legislation he was authorised to enforce(these could be just numbers with possibly a letter following) signed by the relevant minister or delegate and the expiry date of the Authorisation written on the card. If they cant produce their Authorisation they have no power to move you on and especially search you.
Rowdy

rowdy

Good Contributor





Number of posts

: 114


Age

: 77


Registration date :

2008-10-21



[FOLLOWUP]:
I've been in touch with one of the senior NSW National Parks and Wildlife Service staff and I'll be (hopefully) meeting with him in person tomorrow to take a closer look at where the fossicker/prospector was located on the town map when he was approached. The person in the white vehicle identified himself as a "Ranger" (yet apparently there are no allocated 'Rangers' at Hill End). And this "ranger" told the fossicker that he was "on Crown Land but couldn't detect there". This too makes no sense because the Crown Land there is generally entirely accessible to detectorists - as long as it is not on an active lease and certainly not on the clearly marked Historic Town Section (which appears on all maps).

I'm hoping this is just a one-off... but if the person is using a fake magnetic NSW Parks logo on his vehicle, it may fit in with a long cycle of fraudulent behavior by someone who routinely visits the area to shake down tourists. The account of the confrontation by the fossicker was convincing enough and it's not the first time something like this has happened in the district. I'd say this is the fourth time I've heard of something similar happening there.

If I have any further relevant information over the next few days, I'll post it here either tomorrow or Wednesday.

nero_design

Contributor Plus





Number of posts

: 1956


Registration date :

2008-11-18



CONCLUSION:
I met briefly with several members of NSW National Parks staff at Hill End on Tuesday.  The senior member I spoke to (and viewed a map of the town with) agreed with me that the fossicker appeared to be on Crown Land when he was confronted and the opinion we all shared was that this was indeed the actions of someone pretending to be someone from National Parks.  Might be worth noting that this fellow exists if you or your friends are headed out that way. Threatening to confiscate metal detectors ...and threatening to turn out the pockets of a fossicker who was on Crown Land... is taking things up to a new level from the usual shakedown - from what I presume is likely to be the same person that was scamming tourists for "$60 per-person fossicking permits" (Note: A fossicking permit is NOT necessary on the Crown Land surrounding the Town).  I kept an eye out for anything unusual but saw nothing strange at either end of the town on the day.  The Parks staff were certainly covering a lot of ground and I found several of them are remote locations outside of the town taking photographs of the historical elements.
I found the NSW Parks staff pleasant and helpful. They were all extremely polite. The Heritage Museum is now in the final stages of relocation to a site opposite the Royal Hotel at Hill End (next to the Baker/Grocer/General Store that sits opposite the Pub).  It should be much more accessible to tourists and visitors from this new, central location.  NOTE: They are still finalizing construction there but ought to be finished shortly.  I was told the new Heritage center is already accessible to visitors.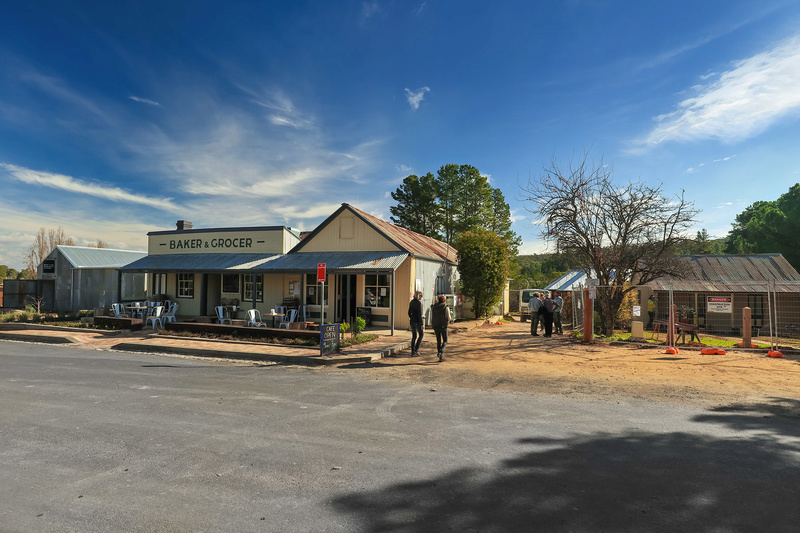 nero_design

Contributor Plus





Number of posts

: 1956


Registration date :

2008-11-18



Nero I don't know how true this is, but I heard that if a building in the town go's up for sale, National Parks are buying these up at reserve price and then knocking them down and trying to return most of Hill End back to natural bush. How true is this. I have never been to Hill End but hope to in the future if it is still there.
wombat


Wombat

Contributor Plus





Number of posts

: 4297


Age

: 71


Registration date :

2009-01-30



I think the Hill End district (the town site) is Heritage-listed for protection.  No doubt they receive government funding to maintain the place.  Looking at some of the older buildings at Sofala and Hill End yesterday, it's clear that some are uninhabitable and pose a safety risk.  I haven't seen any of the old buildings disappear though. The more solid buildings are mostly abandoned but some are occupied.  

It's a very photogenic town. I'd strongly recommend that prospectors visit the location if the history of the early pioneers and gold rush interests them.  I was just about to post some pictures in another thread for the local prospectors who have memories of this place. The last I heard, National Parks were trying to obtain ownership of the Crown Land there so they could convert it all to National Park land - but the local prospectors who attended the public meeting were so angry that they reconsidered.  It was also made clear that prospectors brought plenty of regular cash flow into the town, which might otherwise dry up if they had no reason to stay or eat there. There's some nice land around the town that still gives up a bit of gold to daily gold-panners... and one of the locals there had found a half-ounce nugget the other day with a metal detector.

nero_design

Contributor Plus





Number of posts

: 1956


Registration date :

2008-11-18




---
Permissions in this forum:
You
cannot
reply to topics in this forum