Hey guys- Just wondering what your thoughts are on the best pan out there is. I currently have a off-brand simple pan. I've seen the Garrett Super Sluice and it looks like a beast. Any better ones out there?

Thanks,
Ian

RECOVERED

New Poster





Number of posts

: 4


Registration date :

2017-06-30



RECOVERED wrote:Hey guys- Just wondering what your thoughts are on the best pan out there is.  I currently have a off-brand simple pan.  I've seen the Garrett Super Sluice and it looks like a beast.  Any better ones out there?

Thanks,
Ian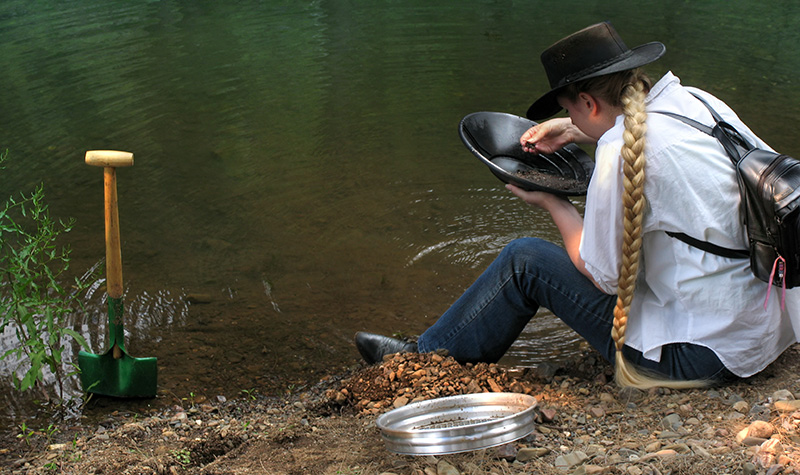 My wife using the Aussie Gold Pan on our first day panning on the NSW Turon River - quite some years ago...around 2007.  
I've got some pictures of different pans that I've photographed to show you but I need to take some pictures of the new Minelab Pro-Gold pans.  I'll include an image that I'll link from Minelab's site (below).   They are a deep-blue color and are made for amateur and serious prospecting use. There's a link here that you can follow to see them on Minelab's site:
http://www.minelab.com/accessories-1/pro-gold
 .  It's hard to claim that one pan is better than another without using them side-by-side but some pans are more popular than others.
US Pro-Pan
I've used most pans, just out of curiosity.  But I'm personally very fond of the US Pro-Pans and brought THREE of them because I like them so much.  Essentially, they're just one massive Riffle due to the skewed shape.  They have strange domes that cover the base of the pan and these reflect vibration waves in the water to smash the gold away from the soil in the pan.  It's surprisingly effective. You fill it with soil, including rocks, and then shake the pan from side to side for 10 seconds or more before tilting the pan quickly upright.  This causes any rocks to fall out and all the lighter debris to tip out with it.  Change the shake from side-to-side to front-to-back... and you should find your gold at the base of that deep riffle when you've thrown out 99% of the soil.
GARRETT SUPER-SLUICE
The Garrett Super Sluice is a very large pan and for some people it's quite cumbersome. It's very thick and can be stood on without breaking. Garrett also make a smaller pan that has numerous smaller riffles like the Aussie Gold Pan and it's popular with mining companies.   I bought one years ago and tend to only use it as a prop when photographing gold samples.  It's very solidly built and used to sell for something like $55 in Australia... until the price fell.  
Then there's the Turbo Pans and the Aussie Gold Pans.  I've found the Aussie pans can become brittle in sunlight but it's possible I simply came across pans that had been subjected to abuse.  The Turbos are tough although the owners are divided:  some people REALLY like them have had a lot of success with them ...and others return to a "traditional" pan like the Aussie Gold Pan.  But if you don't read the instructions and swirl them the wrong way, you won't catch much gold.  The correct method causes the heavy material (gold) over the riffles and towards the center of the pan... where it's panned out quickly over the riffles just like a regular pan.
The main pans that you will find in Australia are likely to be these:


The 'Aussie Gold Pans' (inexpensive... literally made in Australia) [BLACK]

Garrett 'Super Sluice' Pans (good, heavy, hard to find sometimes) [GREEN]

The 'Turbo Pans' (some people REALLY love these) [GREEN, BLACK or BLUE]

Minelab 'PRO-GOLD' Pans (new on the market and VERY good) [BLUE] - available as a full kit or individually.

American Pro Pan (my personal favorite - fastest pan out there. No longer locally available) [GREEN or BLUE]

Traditional metal gold pan with raised rim (rust-buckets.... worst choice these days).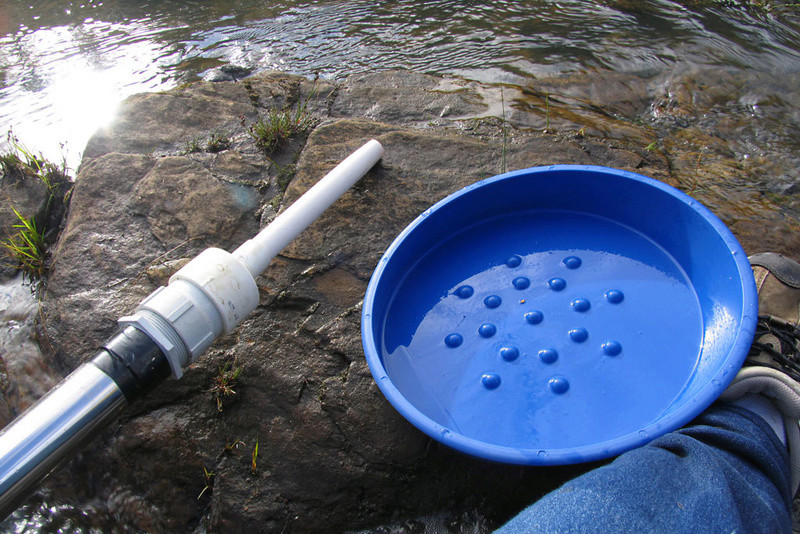 My "American Pro Pan" which has a unique design.  You can literally pan a full load of unclassified dirt and rocks (BUT NOT CLAY) in less than 15 seconds with it.  Hard to find in Australia these days.  Not even sure if any retailers in Australia still carry it.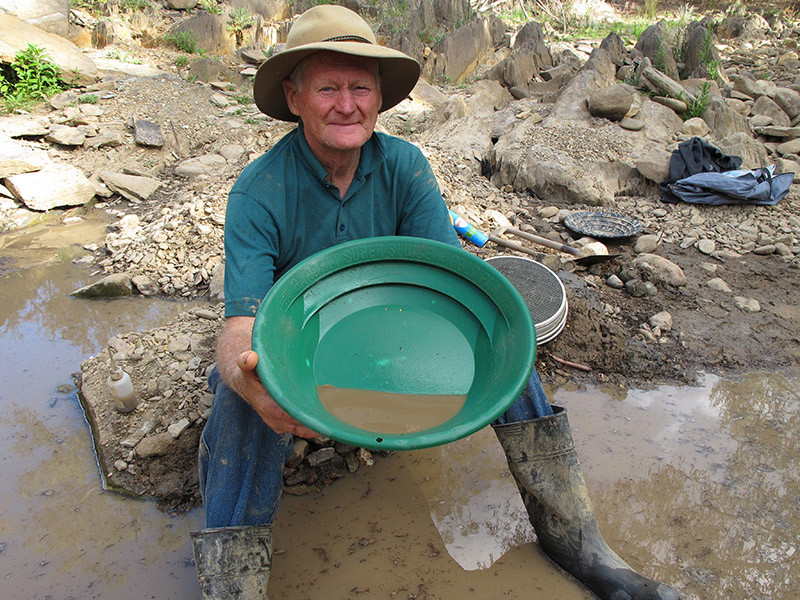 The Garrett 'Super Sluice' has only two deep riffles.  It catches the larger nuggets but you may lose some smaller gold if your method isn't refined.  It's big (15" wide) and quite heavy compared to other pans.  Mining companies often use the size below this one with standard riffles.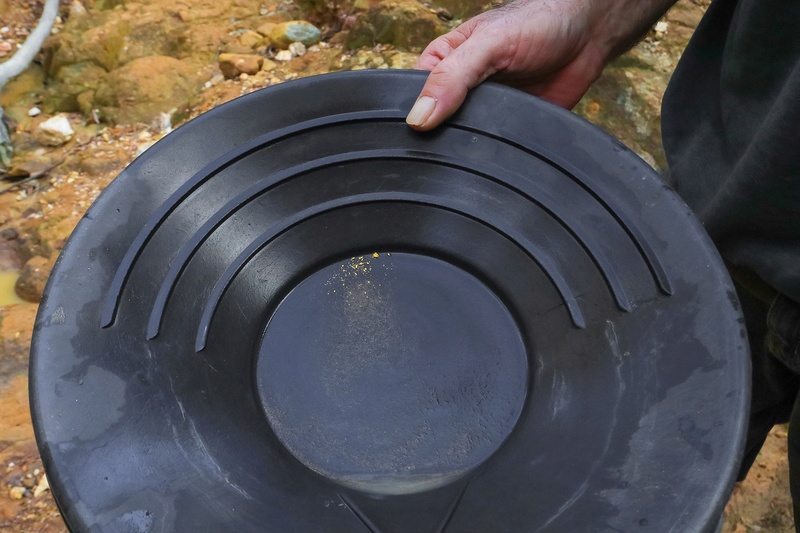 The Aussie Gold Pan - showing how fine the gold capture can be.
Remember that the US Gold Rush television shows are sponsored by American companies such as Garrett.  In fact Garrett actually put the Hoffmans on the boxes of some of their prospecting products a couple of years ago.  Americans are also extremely pro-American with patriotism that extends to their detectors and gold pans, hence the greater product visibility on their television shows.  
COLOR:
A lot of people like Green and Blue because it's easier to see metallic yellow gold against the color of the pan if it's Green or Blue.  Black tends to make Yellow Clay and Quartz look like Gold under sunlight.  The pans still work perfectly (regardless of color) since color does not affect gold recovery.  But the popularity of green and blue colors dominates at the moment.  Metal pans were the traditional gold pans... going all the way back to the 1850s here in Australia.  I use both Green and Blue pans as well as the occasional Black pan when doing a cleanup.
TURBO PAN:
I'm mentioning this one separately because the Turbo Pans are a relatively new release.  The upside is they allow you to work quickly. The downside is that you're going to get a little wet from splashing this pan about.  In summer time this is fantastic.  In Winter, not so much fun at all.  There's videos online that you can view to show you how to use the Turbo Pan and they call it a "Hand Sluice" because it operates a little more like a hand-sluice than a typical gold pan.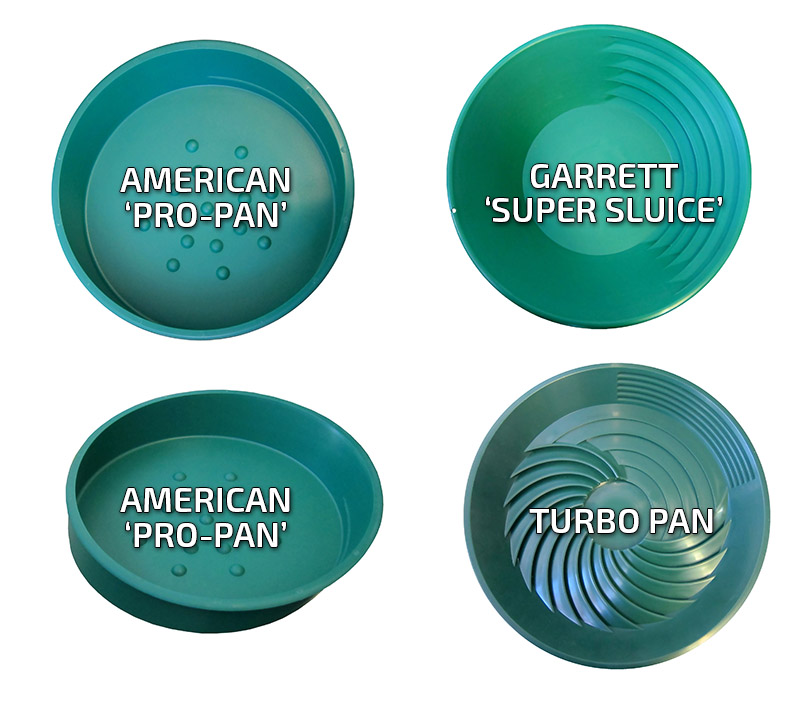 METAL PANS:
Everyone knows someone who used to use one of these and every now and then someone still uses one.  My personal opinion is that compared to the new plastic pans they are a waste of time.  They have a very basic raised rim that usually loses any gold (compared to plastic pans).  They are usually supplied with a thick layer of oil attached to the surface because they readily rust.  The old timers used them as shovels to dig with and then they cooked off the mercury over the fire at the end of the evening before making dinner and breakfast on the same contaminated  dish.  These days you need to keep the steel pans oiled to reduce rust.  But then you have to burnish them over a fire to vaporize the oil before using it.  Your pan will either rust or you will become frustrated with oil getting all over you and your equipment.  And a rusty pan has a coarse surface preventing you from swirling the tailings at the end of each panning session.  Better to leave them in grandpa's garage.
My wife at the National Art Gallery looking at a vintage painting of a Gold Panner using a metal pan. Note the effort this guy is putting into trying to tell if he's got gold in his pan.  Metal pans are no longer in vogue.
In a nutshell, as long as you avoid the old metal pans, you should find it fairly easy to find gold with a modern gold pan.  There's some ODD designs available overseas but if they actually worked you'd see them all over the place here.  What's happening is that people in the US want to sell their own unique design because they can patent, copyright or trademark the design to maximize their profits - and they just KNOW every prospector wants any edge they can get... and that they will buy the new product in the early days of release.  They can't use the existing designs so they come up with some wild designs.  Some even have removable "traps" that supposedly capture the gold in a hidden compartment on the bottom of the device.  I have no idea how reliable they are.  Stick to the sensible, proven designs and you can't really go wrong.  Your goal is to eject all the light material from the pan and to retain the "heavies".  That's all there is to it in principal.  There's usually more than one technique that can be used for each design, too.
My personal recommendation would be the same as I give to my friends and family when they ask me: Get a
Minelab PRO-GOLD Complete panning kit
.  They're WELL MADE and they're good value either as individual pans or as a Kit.  The "Complete Kit" comes in a box and contains a full-sized 15" pan, a smaller 10" cleanup (or backpack-portable) pan and a solid hexagonal-mesh Sieve / Classifier to get the rocks out of your pan as well as a bunch of other goodies... It also comes with a neat bag that serves as a basic backpack with two nylon draw-strings that act as shoulder straps. Pretty sure the local price is AUD $79 - and the products all stack together to fit inside the bag... which is quite practical.

nero_design

Contributor Plus





Number of posts

: 1954


Registration date :

2008-11-18



I have two small pans , I think 8 and 10 inch.  They are made from stainless steel.   Got them from a wholesaler  that sells gear to the hospitality  industry .  Did not cost much.

Walmart sells them , just checked . You can never have enough pans !
Last edited by Minermike on Fri Jul 07, 2017 2:35 pm; edited 1 time in total (Reason for editing : more info.)

Minermike

Contributor Plus





Number of posts

: 1354


Age

: 73


Registration date :

2011-07-25



"Panning's  for the Birds"
You wake up on a Sunday morning
A sunny, windless day
You look across the water
at tiny birds skimming the surface
collecting something from the top.
And you think life could't be better
Then you turn one-eighty and  and gasp back in fright
at the view of 10 twenty litre buckets of classified dirt
ready to be worked!
But this time you don't grumble
For at last you've seen the light
And you praise the gods that made you stop
and convinced you to pick up your detector and turn
your back on that slop.
Slimpickens.
(Ok, ok, each to his own.)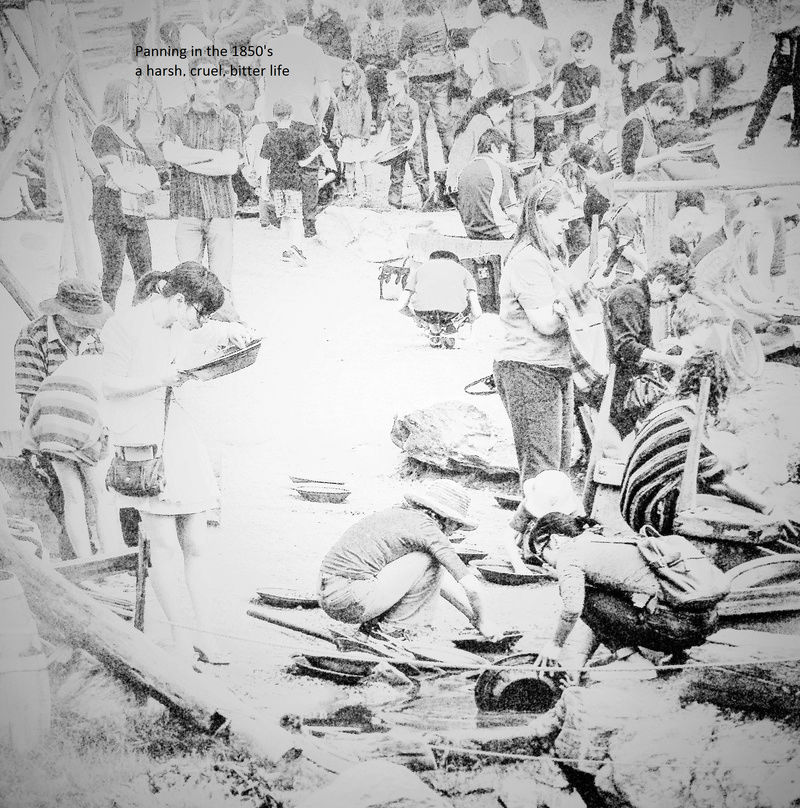 Last edited by slimpickens on Mon Jul 10, 2017 1:09 am; edited 1 time in total

_________________
Chasing the Golden Goddess till the Bitch wears me out!

slimpickens

Management




Number of posts

: 3576


Registration date :

2010-08-04



I like the heft and bottom width of the Garrett Super Sluice, a great pan and gets the job done quickly,

the smaller pans are harder for me to use.

Rege-PA

Seasoned Contributor





Number of posts

: 158


Registration date :

2011-05-16



Rege-PA wrote:I like the heft and bottom width of the Garrett Super Sluice, a great pan and gets the job done quickly,  

the smaller pans are harder for me to use.
I couldn't have said it better - a quality item made to a standard not a price!
onebob

onebob

Contributor





Number of posts

: 76


Age

: 63


Registration date :

2010-02-27




Similar topics
---
Permissions in this forum:
You
cannot
reply to topics in this forum