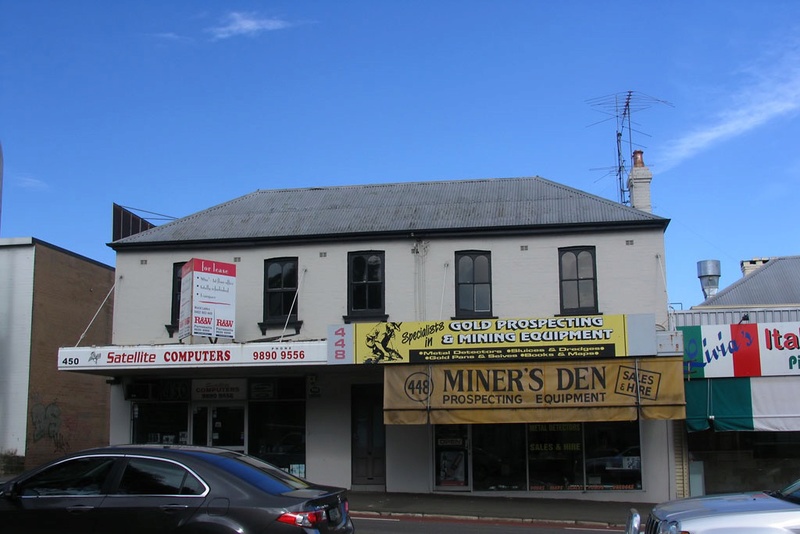 Ye olde Miner Den as it stood in 2006 on the East side of Church Street.  It has since been moved across the road from this location - directly opposite, on the West side of Church Street, Parramatta.
Hi folks,
As a member of the forum since 2008, I had to taper off with my regular posting here when i began working with the Miners Den Sydney (Parramatta).  It really does feel like it was yesterday that I began working there... literally for the joy of it.  This has been one of the most interesting and rewarding jobs I've worked.  Some days were very hard and winters in the old building were bitterly cold. Summers were so blisteringly hot that we lost a few kilos in sweat during the season.  Each day brought someone new into the store.  Every day I learned something new, saw something interesting or shared something I thought was useful.  I enjoyed being a part of the local prospecting community and it was always a genuine pleasure to assist any and every customer I had the opportunity to talk to.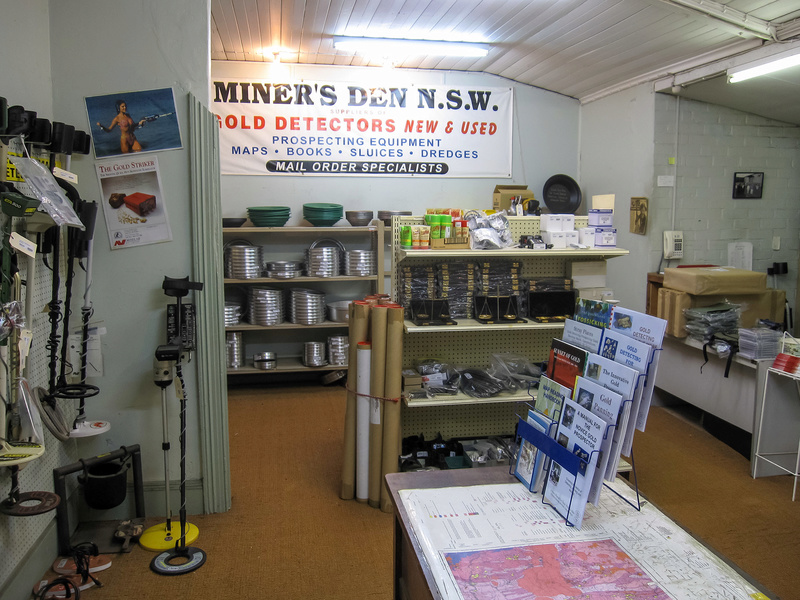 The OLD Miners Den building at the old North Parra address... rustic is too kind a word.  It was (in my opinion) something of a safety hazard, until the roof collapsed and the store was flooded. It was built about 180 years ago!
I decided to withdraw from Miners Den Sydney (effective as of today) after 9 years of working alongside with some amazing and hardworking people.  This was my own choice and I needed some room to pursue other projects that my routine and sometimes random hours made it hard to allocate time towards.  I believe I'm leaving the company in good hands and will be keeping in touch with key staff privately.
Today was my final day.  
It was kind of sad for me as I later passed the store on the way home.  I was originally offered the role by a gentleman named Brian Connelly - who not only managed the store but was president of the local prospecting club.  He taught me a great deal about prospecting, sparked my interest in gold when I was a customer of the store... and who was retiring at the time we crossed paths.  The company has changed hands once in my early years there and I was asked not to post on the forums by the former and present owners of the company.  It wasn't a ban, just a request.  The reason for this was sound: some forum members can sometimes be a little aggressive towards dealers online. Only a few. More than a couple of members felt that any opinions I had were 'those of a dealer hoping to sell a product'.  In answer to this, I have never worked on commission so there was no incentive for me to show bias towards a product.  Older members here may remember some of those early exchanges which were sometimes heated - but always entertaining.  
The Sudanese Gold Rush was one heck of an adventure. Absolute MADNESS.  And the crazy customers (eg the one who found 20 kilos of mercury and brought it into the store to sell) will truly be missed.  One even came in with a long-range locator (the plumb bob version) and ended up standing over the fake plaster nugget we had in the middle of the floor display gloating ( I wasn't there that day - but I wish I was).
I recently bought my wife a new car with Gold.  I can't bring myself to drive it to the goldfields though because it has a new type of three-mix paint coat that is hard to remove scratches from. I also bought a few other goodies that I'd wanted.  I don't think I went overboard although I might yet need to buy a 4x4 - which means I need to get back out there digging again.  I kept one of my favorite nuggets which was not the largest I'd found, but it was one of the prettier ones.  I thought I'd wear it as a pendant but it's too large, would look a bit tacky and would knock my teeth out if I went jogging with it. it's just over an ounce but smooth with Swiss cheese holes in it, no host rock but is shaped a bit like an inflatable seahorse. I'm sure going to miss seeing some of the crazy gold that the customers loved to show me.  Some of the larger ones were staggeringly heavy to handle. Thanks so much to anyone who let me photograph their finds.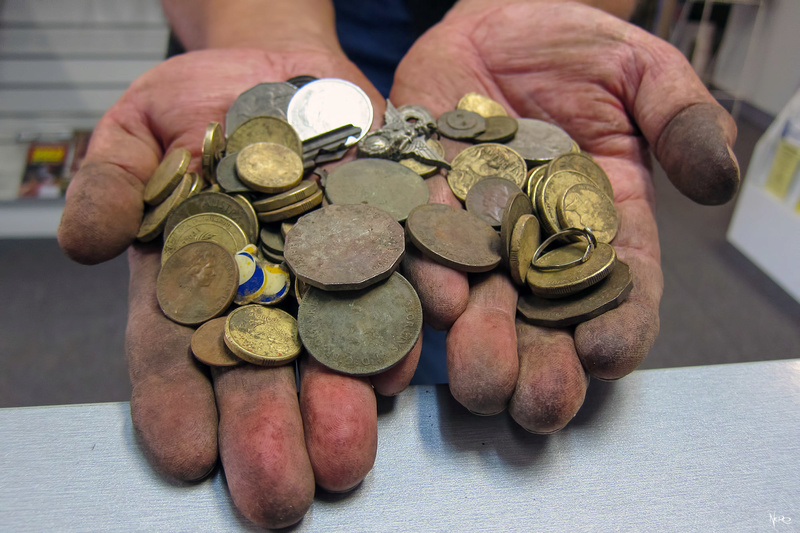 A customer who bought an X-Terra 705 (from memory) from me returned later with this!.
When I started at the MD, I didn't know about many other brands or the spare parts for various generations of detectors. There was a lot to take in because I'd only learned the equipment that I used.  Later, I looked into buying the store at one point - when it was offered for sale - I had an accountant sit down to look at the details.  But, I would have been out of my depth as an owner and passed.  I think it's fairly difficult for any dealer to operate comfortably in today's market simply because there's so many influential factors... and more than a few other stores closed or changed hands over the last few years. And the original Miners Den owners later ended up selling the store/s to Bendigo Gold... a business with a history of selling Minelab gold detectors and a long history in the Gold prospecting business.  I'm happy to say that I was always treated well by both sets of store owners.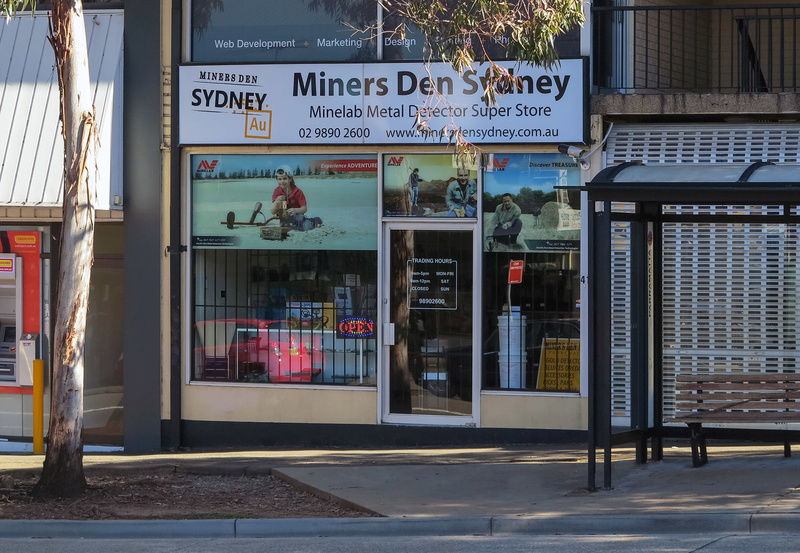 The NEW location at 411 Church Street - the scene has changed since this picture was taken... the bus stop was moved further away and the tree is gone, now cemented over with seating bollards, planters and a bike rack.
The new store has dropped a few old favorites: People no longer bring in their detectors to trade and often prefer to sell on Gumtree and Ebay. Counterfeits have now saturated the online market.  I had a guy bring one in a few weeks ago (see pic) that a work mate sold him.  Dredges are officially listed (along with explosives) as 'prohibited' for hobbyists under the so-called fossicking act. Back when the store was located at Granville it was filled with a lot of rusty second hand water related prospecting gear but the demographics have changed in recent years. The old building we occupied flooded one day and the ceiling collapsed ... immersing a lot of our equipment in water.  (if only there was some mechanical device with a pump and hose that we could have used to empty the hundreds of liters of water in the store!)  The new location is more modern and without any redback spiders (the old store was infested with them). To be fair, the building was said to have been built in the 1820s... and the horsehair that was used as ceiling insulation certainly made an impression as to the age of the architecture.  Our new owners adopted the store and staff and moved us to the convenient location of "just across the road".  There was a lot of effort involved in relocating everything although the new location was convenient enough for us to dodge traffic as we delivered to the new store location.  At least now, when it rains, there isn't water cascading over the light switches like it did in the old location. The little things always make such a big difference.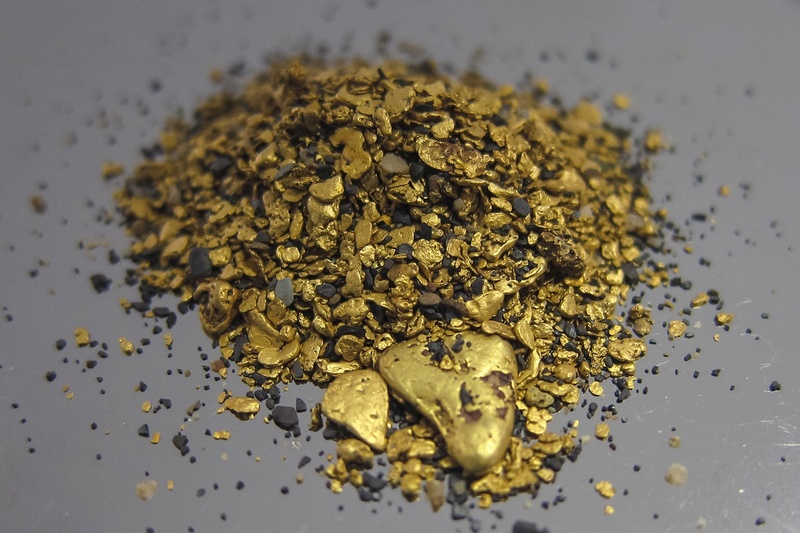 Gold found with a pan and/or sluice by a regular customer.  Lovely stuff.  He had me weigh it before he put it on Ebay.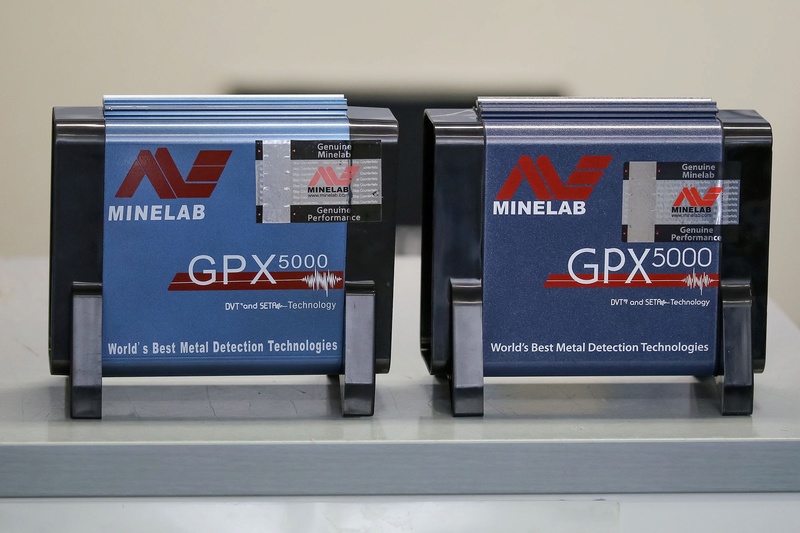 Yet another (recent) counterfeit detector from China (the one on the left is a fake),  Sure, the paint might be a shade off... but the paint used on the genuine GPX 5000 is available at the local hobby store.  No doubt the next batch of counterfeits will be a closer match..
I look forward to prospecting again with a little more regularity ...something that my weekend shifts always interfered with.  The decision to leave was my own so there's no need for creative assumptions.  In fact I felt there was a considerable amount of disappointment when I announced my decision to leave.  I have a lot of respect for my fellow employees at the other stores and even some of our distant competitors with whom we often assisted when customers needs required it.  I'm happy with the way we conducted our business and regret that in future, I will no longer be in the loop on what prospectors are discovering nor given the opportunity to photograph amazing finds when customers bring them in.
Gold brought in by a customer and forum member.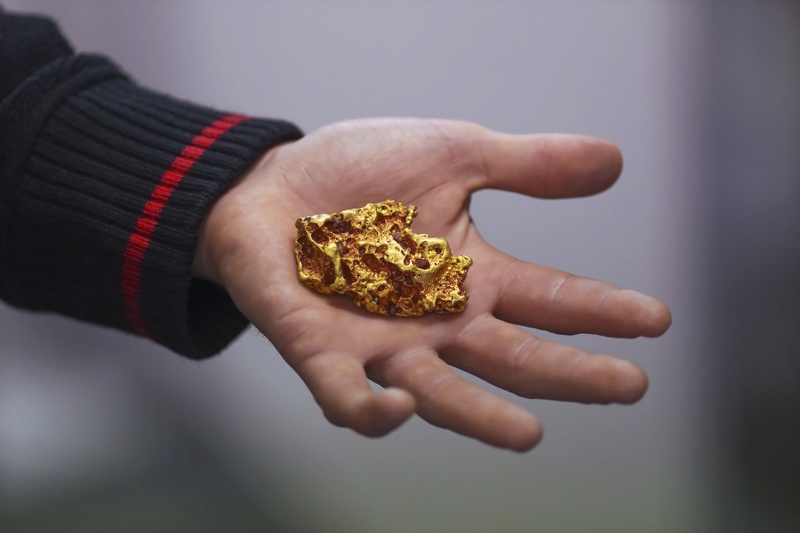 Dean's big nugget.  He's the only person I've met that found two separate 11 ounce nuggets on two separate detecting trips. This was the prettier one he dug up... and it was a 'Sunbaker' to boot!  
CHANGES in PARRAMATTA:
Parramatta City is undergoing tremendous change at the moment.  A free shuttle-bus presently circulates from the train station to the Miners Den store (it stops at the adjacent corner).  A light-rail system is being prepared for insertion to service the main street and will eventually replace the shuttle.  Each time they dig up a building to lay the foundations for another, they find a trove of archeological treasure beneath surface.  Most of the buildings at this end of Parramatta were built in the very early 1800s with most of the nicer structures dated around the early 1820s.  Sadly, Harry's Cafe De Wheels has just been shut down and appears to be relocating at the Parramatta Leagues Club (or so Harry's Woolloomooloo cafe told me).  They were in the process of dismantling the pie cafe this morning.  I believe the block is earmarked for another tall structure although both the Royal Oak hotel and the Harry's carpark site have both been identified as structures being removed to make way for the light rail.  How the council could approve of the destruction of an 1813 hotel is bizarre.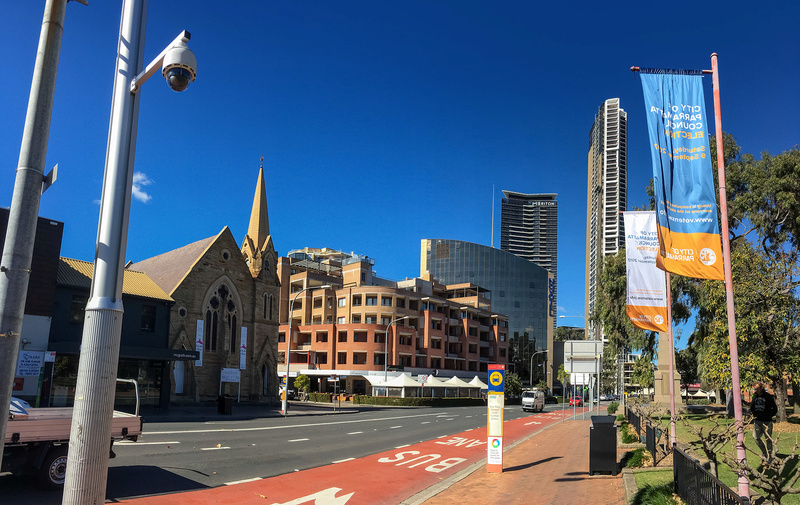 Old and the New.... The changing face of Parramatta. The view from about a block away from the store - on the corner of Church St and Victoria Road.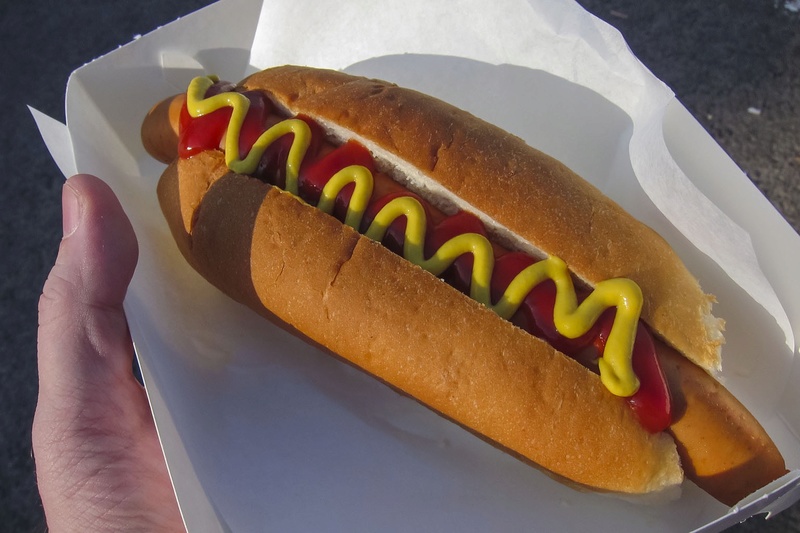 Tasty hotdogs and Pepper Steak 'Tiger' Pies are no longer on the menu at Harry's...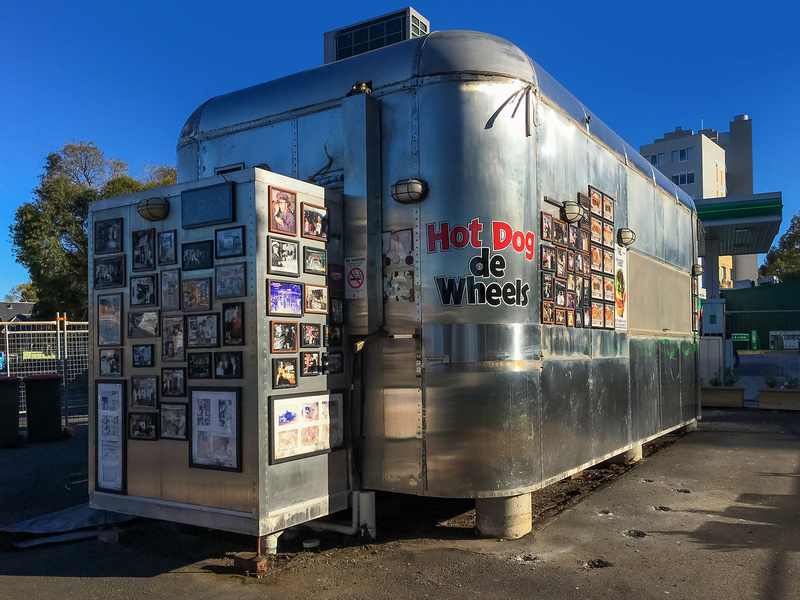 Kind of sad to see them closed.  Cafe Lipari and several other nearby sources of food will fill in the void.
I'll still stop in at the store from time to time.  I'm still a customer. And I now look forward to posting occasionally after I take a trip out the the goldfields or to discuss products with fellow users and aspiring gold hunters. I've think I've been a customer of the Miners Den since around the mid or even early 1990s.  I believe that I still have some of their early Gold Gem and Treasure magazines with their old store price stickers on therm. Television shows like the Gold Rush series are still inspiring people to seek out the hobby and many folks just want to try their hand and their luck with a gold pan or detector.  I think I'll be joining them.  
All the best,
Marco Nero

nero_design

Contributor Plus





Number of posts

: 1924


Registration date :

2008-11-18



Marco.
Great read.
Thanks for sharing and good luck out there.
Staples

staples61

Good Contributor





Number of posts

: 106


Age

: 56


Registration date :

2008-11-29



G/day nero.
Must be difficult walking out the door for the last time.
     Some interesting history there and a great read. Good luck for the future.
The 1813 pub will be a serious hystoric loss. Councils can be totally ignorant at times and care even less about our old buildings, Money and apartments are all that interests them.
Unlike most other countries that try to preserve significant old buildings, Australian developers just want to replace them with stacks of concrete boxes with polystyrene filled  walls and coated in fire conductive cladding

Once again; Good luck for the future.
Last edited by adrian ss on Thu Sep 07, 2017 8:05 am; edited 1 time in total

adrian ss

Contributor Plus





Number of posts

: 1316


Age

: 71


Registration date :

2015-07-03



marco, your past input to this forum has been - legendary - great to hear you are going to be able to enjoy your detecting hobby with less restrictions.

i dont know you personally, but your capabilities shine bright through your writings. have a lot of pleasure with your latest change in life ... kev

kevlorraine2

Contributor Plus





Number of posts

: 478


Registration date :

2008-10-23



Great post Marco, I really enjoyed hearing about your journey with MD. Good luck with your future endeavours.


Magilla

New Poster





Number of posts

: 14


Registration date :

2015-05-23



Dig24crt wrote:"Counterfeits have saturated the online market"You point out to me and the rest of the members which of the detectors currently online on ebay and gumtree are fakes
Dig
I'll be happy to do this if it's obvious.. but those fakes are visually more challenging every single day.  They're a bit slow at perfecting things and there's more than one factory churning these things out.  I didn't reply to the threads because you folks always had a very keen eye for spotting the fakes.  Sometimes it was just the spacing of the fonts used on the lettering that gave them away.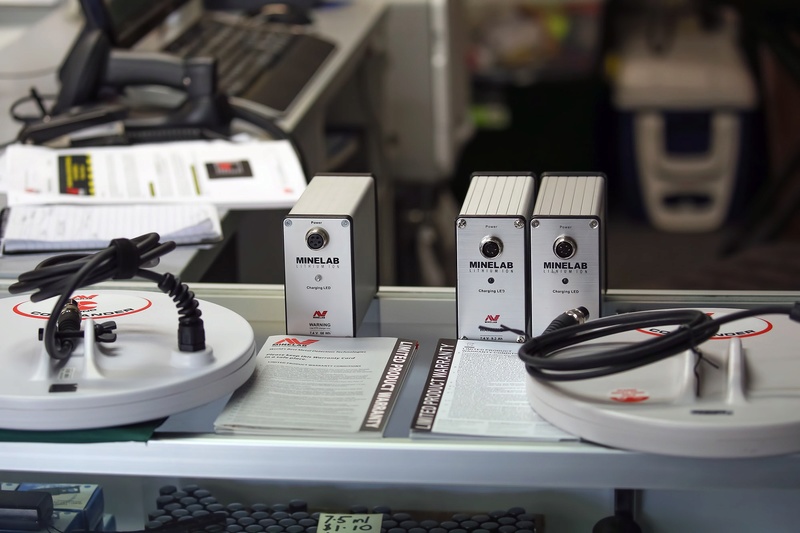 Which is the real Minelab coil, genuine battery and actual warranty card?  ANSWER: The ones on the LEFT are real.
COUNTERFEITS from China and Turkey today:
Check these out (See image above)... the REAL Minelab products are on the LEFT and the fakes (including fake coil, warranty card and batteries) are on the RIGHT.  The screws on the batteries were different to the genuine Minelab products.  Sudanese in Australia would collect money from their families back home to buy a Minelab GPX detector. Sometimes they sold it on the black market over ther and other times they used it to try and find gold for their families.  Sometimes they got lucky and bought a real one (usually from a dealer) but inevitably they'd source fakes and counterfeits which they then sent back to Africa.  The fakes didn't work.  So to get their money back, the families would send the detectors all the way back to Australia, UK and America (where Minelab offices are located) and would then relist them here thinking other buyers would assume that they were genuine products that had come from the manufacturer.  
Amusingly, the Africans weren't all that quick to catch onto what they themselves were doing and would often bid on these fake detectors that their compatriots had listed for sale... effectively re-buying their fakes all over again anonymously and sending them to Africa, where they would fail to work properly.  Eventually they would try to get their money back and would send the detectors back to Australia, the UK and the US to be relisted.  It's an endless loop of ignorance and stupidity.  It's still happening.  And the security stickers are now producing 3 of the 4 colors required to identify the fakes from the real ones.  I imagine that unless you had a genuine product sitting beside you at the time there will be no way at all to spot the fakes.  I was told that Garrett USA lost tens of millions in revenue due to these counterfeits so it's not just Minelab that are being cranked out.  
Here's something I learned from official sources:  **** **, the billionaire Chinese businessman who created Alibaba (*the Ebay alternative that lists hundreds of thousands of counterfeit detectors) allegedly owns two of the factories churning out counterfeit Garrett, Whites and Minelab detectors and he's so well connected to the Chinese government that nobody will touch him for it.  Nothing will stop these things from continuing to pour out into the public.
Even the interior electronics on the motherboards of the Control Box are being faked... but without the actual required components. One trick they've taken to doing these days is to make their impossible-to-source chips using a real one as a template. They sand off the value-specs off the chips that sit on the motherboard, paint them over, and then take a picture of a real one before using the photograph to silk-screen the correct values directly onto their crappy fake one. Looks the same and costs them little or nothing to produce.  It certainly doesn't work like it should.
A fake 18" Goldstalker Coil. This was sold to a customer by a WA seller.  To their credit, when contacted, Coiltek offered to replace the fake coil with a genuine one in return for the fake - so they would have a means of warning their customers.  How did I notice?  The paint with the name Coiltek' on the cable came off on my thumb when rubbed firmly.  The cable was shiny underneath.  It should have been matt-black... not shiny.
Problems with EBAY etc.
Something else to be concerned with is selling gold these days. I used to love selling gold online.  It was usually small amounts of 5 grams or less but sometimes I sold larger pieces and some rather hefty nuggets.  I'd spend hours cutting blocks of foam to line the boxes where the gold would sit before posting.  My customers LOVED the amount of care attention I'd used when packing and I would sometimes give them a free display case or even a spare that could be used to display their nuggets.  My photographs were sharp and always included a ruler to show the true scale of the nuggets.  I'd list them to coincide with the auction ending after dinner on a Sunday evening when most bidders were active.  I'd usually monitor the auctions to ensure I could answer any questions that would pop up.  Once I even told a bidder who contacted me to stop bidding because the price he'd pushed the nugget to $72 per gram was fine for this particular looking nugget but that any higher would not be in his interest.  How many other Ebay sellers would tell you to stop bidding?! Sometimes I'd buy nuggets.  If there was a shape or a unique specimen that I wanted to photograph or use for jewellery, I'd certainly bid on the occasional nugget.  Even a few well known 'celebrity prospectors' contacted me to ask me to supply them with gold from time to time... without realizing it was me selling.  At one time I bought some from another detector dealer who seemed puzzled when they saw the delivery address was one of their rivals. But everything was fun and fine, up unto a couple of years ago when a scammer tagged me.
Scammer:
I've given up selling gold on Ebay a couple of years ago after an American scammed me and neither Ebay nor Paypal would step up to protect me as a seller.  It wasn't a big sale... perhaps less than $200. The scammer took the item, got a refund and never returned the item. In Australia that's illegal under consumer laws.  It's illegal in America but with more leeway for abuse.  But this jerk then threatened to report the item as being incorrectly labelled and claimed postal fraud because the value he paid was slightly more than the amount it was valued at on the posted envelope.  He claimed the item was damaged.  He claimed the item was not the one he bid one.  Basically he tried to get me to kindly and politely refund his purchase but then he used the Ebay PayPal process to enforce his scam.  To try and intimidate me, he also sent someone he knew in Australia to the Miner's Den (where I was working) and reported back to me exactly where I was and what I was doing that week.. including when I stepped in or out of the store.  He also "threatened to report me to my employer" and "ruin my reputation" if I didn't do his bidding and furnished me with the personal contact details of said employer. I kept a careful record of everything he did. I don't take kindly to any kind of behavior like this and if he was here in Australia I assure you he'd be serving jail time.  Ebay and Paypal were initially on my side and considered this "a perfect case of blackmail" as well as intimidation and harassment.  The problem is, PayPal is a US based company and they don't have to play by our consumer rules, even though Ebay does.  I recorded one of my conversations with PayPal over the phone and they stated clearly that they "
would not even acknowledge a demand from an Australian court to comply, even if ordered to do so by a judge or magistrate
".  In the end, the scammer kept the item and got a refund.  I still keep an eye on his online movements today and hidden in his feedback by others is a very similar pattern of behavior.  On the outside he has a 100% feedback.  So did I until this little jerk came along.  Gumtree is now owned by Ebay although it seems to be less of a hassle to sell there. My scammer was from a location where guns are carried openly by members of the public and will likely rub someone the wrong way over there some day.  In the end it was a VALUABLE lesson, all for the bargain price of just $200.  It probably saved me from worse scammers down the track... I engaged lawyers to apply pressure to PayPal and Ebay but they ended up refusing to deal with me personally and directly with pending litigation in the pipeline and would only speak with the lawyers.  In the end it wasn't worth pursuing and I suspect the scammer knew this because he told me this would happen and that he'd been doing this for years.  I'd post screen caps of such comments to PayPal and Ebay.  Ebay washed their hands of it since the purchase was made via PayPal and PayPal refused to follow up on "such a small Loss" and their operator told me on the side that I should "
just suck it up and learn that these things happen sometimes
".
Why PayPal and Ebay won't protect you:
In my last conversation with Paypal USA, they told me something I hadn't heard before:  If you are selling an item and have possession of the item, their policy *(and this one is NOT advertised on their webpage) is to believe EVERYTHING that you (the seller) have to say about the item.  However, when the buyer receives the item, they then believe EVERYTHING that the buyer has to say about the product.  Even if it's absolute lies.  When I ascertained that this is how PayPal operate, I pulled the plug on them after 10 years of 100% feedback, both as a seller and as a buyer.  Gold ALWAYS seemed to attract overseas scammers and I narrowly avoided getting scammed by another buyer in Switzerland the year before.  These days I sell gold to people like The Precious Metal Exchange in Sydney... or privately.  I actually enjoyed selling on Ebay and regret that I now have to ask my wife to buy things for me if I want them.
The PayPal/Ebay Chargeback Scam can bite you 8 months later:
As for that American scammer, it wasn't too much money but it made me look much closer at how liable I was if someone decided to do a "chargeback" as late as 8 months after the sale.  They can/could do this if they so wanted.  I'd just sold a 2 ounce nugget to a Western Australian collector and the transaction was temporary blocked by both Ebay and Paypal because they suspected the buyer might be a scammer... this was later resolved and the sale went through.  But if he was (hypothetically) a dishonest person, he could suddenly decide to do a Charegeback on his credit card 8 months later.  He would simply claim that he had discovered an unauthorized purchase and Paypal would extract the money from my bank account and return it to him.  He would then have both the money AND the nugget and could slip away without me being able to do a thing to stop him. When I discovered that this was even possible, I went through the 2 month process to shut down my Ebay account.

nero_design

Contributor Plus





Number of posts

: 1924


Registration date :

2008-11-18



Another well constructed post & good photos

Hope you get to detect more & photograph more & of course keep posting !!!

Perhaps time for a book

Thanks. Anthony





ttrash

Contributor Plus





Number of posts

: 583


Age

: 50


Registration date :

2011-11-20



Hi Marco
I wish you the best of luck on your next adventure
Love your storys and photo's
Thanks for sharing with us all.
Yes a book


_________________
Be happy everyone Lifes to short

Cheers jen.

Jen

Management




Number of posts

: 438


Registration date :

2017-06-16



Hi Marco,
To get protection when selling on EBay is to go into
Settings and into country and click USA
This gives you USA protection
Which is better than Australian EBay protection
This makes you a USA EBay member.
I found this out by accident and it's in the fineprint.

UNCLE BOB

Contributor Plus





Number of posts

: 1334


Registration date :

2010-10-20



Nero will have plenty of time for trading crypto currencies.......




Minermike

Contributor Plus





Number of posts

: 1286


Age

: 73


Registration date :

2011-07-25



G'day Marco
To every ending, commences a new beginning. Although we all here, have had/have our differences, in the way we go about presenting/discussing things, know that your contributions (in way of posts/pictures) to this forum, have been/are beyond reproach & are held in high esteem. Like what the rest of my fellow prospectors here have said, keep up the good work & best of luck towards your future endeavours.
Now as for Alibaba, it is a well known, renowned name the world over. A tale from the Arabian Nights, with the difference here being, is that the so called 40, have now grown/branched out & expanded, to be the so called many.

Cheers Kon.

Similar topics
---
Permissions in this forum:
You
cannot
reply to topics in this forum