2010-- 5 Topics----35 replies
2011-- 9 Topics----50 replies
2012-- 14 topics----80 replies
2013-- 8 topics----70 replies
2014-- 1 Topic---- 2 replies
2015-- 5 topics---- 49 replies
2016-- 5 topics---- 38 replies
2017-- 6 topics---- 10 replies
That is 0.114 replies per day over the past 8 years.

Not much action here when you consider that the vast majority of detectorists are coin,jewellery and relic hunters

adrian ss

Contributor Plus





Number of posts

: 1474


Age

: 71


Registration date :

2015-07-03



Morning Adrian.
More and more are swinging to Face Book, 4 forums that I know.


I will have to take your word for that NJ. I don't have anything to do with face-book. I guess most on this forum are Gold hunters.
    Although when you consider the massive variety of coin, relic and jewellery VLFs and PIs on the market it still seems that this type of metal detecting is not big in Australia. Whenever I am detecting a beach or picnic ground etc, it is only rarely that I encounter somebody else metal detecting.
Even during the 70s through to the 90s when all of my detecting was for gold, I can recall seeing only two other gold fossickers with metal detectors in my area...... although I did get a bit off the beaten track for the sole purpose of getting far away from people.


adrian ss

Contributor Plus





Number of posts

: 1474


Age

: 71


Registration date :

2015-07-03



Hi Adrian ,  think yourself lucky you live in Australia , try living in UK and  telling  someone  you go gold panning ! but suppose  no one here is  surprised if you say  you go  metal detecting , and  you can see detectorists  out an  about  as you drive through the countryside, and definitely on beaches.

mogy

Contributor





Number of posts

: 66


Registration date :

2011-08-26



Well you blokes in England have got some fantastic history going back to before big G Junior & Spook and a country full of artifacts.
If we are lucky we might find an old horse shoe, pick or shovel or maybe a sovereign or a Chinese cash coin or a heap of rubbish left behind by some Greens

I reckon over here if you were spotted metal detecting out in the fields/paddocks and were near a road with traffic you would be likely to be harassed by hoons and other ignoramuses and would cop comments like: "Ya won't find any gold ver mate" or " Get a job yer lazy dh" or "Beep Beep metal man" I have copped those and many more.

adrian ss

Contributor Plus





Number of posts

: 1474


Age

: 71


Registration date :

2015-07-03



Back from trying the Vallon VMH3CS at the beach.
It works very well and is sensitive and deep searching.
    Response to Aussie one and two dollar coins is exceptional and locates these coins in wet or dry sand from the surface to better than 15 inches with a fair signal on the deep coin.
    Bobby pins and steel bottle caps were a pain because the detector has strong response to ferrous items. I guess being a mine detector the pulse timing is set for this type of metal. But at the same time the response to small gold items is very good while not being as deep on the larger deep gold items as you might think it would be.
     Normal mode can be used anywhere on the beach and does produce some weak false signals in the wet sand that is not a problem.
Curiously the Ground balancing Mineral mode was more noisy than the Normal mode over the wet sand. Even though with the GB well set and with no response when the coil was bobbed up and down above the sand, the detector false signalled  a bit once scanning was commenced....Not sure why that was the case?
I was able to run the sensitivity at 12 out of 14 (Led Display) and could  have run at max but at that setting in the water  I found the false sigs to be annoying.
     The ground balance was not driven to max low (Salt sets low and Iron sets high) over the wet sand and there was plenty of range remaining......Maybe it would handle dry salt lakes ?? Just guessing there.
The 5.25 pound weight of the detector was not a problem and I was able to swing the machine for a couple of hours  before my arthritic elbow said give it a rest.

     The weather was a bit stormy and the tecta likes lightning and was pinging quite loud on strikes that were approx 30 k distant. I left the beach when strikes were too close for comfort.  It was raining and the tecta did not seem to mind although it would be wise to not let the HP socket get wet or submerged in salt water.
In short:
I like the VMH3CS PI at the beach. It will not miss many targets and will make a few high end machines sit up and take notice. It is excellent second hand value for money at a few hundred Aussie dollars and for beach detecting PI buffs, this tecta is hard to beat.for the price (second hand)
I might add though that this detector is a few thousand dollars new. So I guess it is far from Low end.
Even if you don't use the back pack to store it.It does not take up much room.
     I put the The bit of string around the elbow cuff is to stop it sliding along the shaft while swinging the tecta.

There was no elbow cuff strap  so I fitted a velcro strip on it.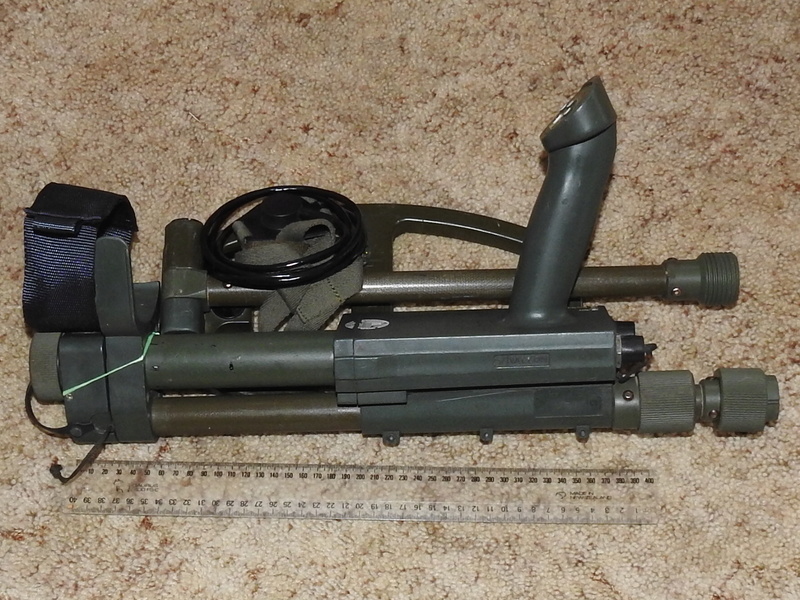 04/12/17
1835 hours
HMMMM.
It appears that I may have not been using the correct ground balancing procedure and this may account for the false tones over the wet sand.


VMH3CS:
Air Test at sensitivity 14.(Max)
Mode Normal.
I dollar Aussie coin = 42 cm
2 dollar Aussie coin = 34 cm
Mode Mineral.
1 dollar Aussie Coin = 35 cm
2 dollar Aussie coin = 28 cm
SDC 2300:
Air Test at max sensitivity.
Norm mode
1 dollar Aussie coin = 24 cm
2 dollar Aussie coin = 19 cm
Salt mode at max sensitivity.
1 dollar Aussie Coin = 25 cm
2 dollar Aussie coin = 23 cm
Clearly the vallon is better for coins at the beach.
The SDC is  better for gold than the Vallon........Makes sense cos the Vallon is a mine detector with Pulse timing optimised for iron/steel and the SDC is set up for small gold.
18k 3.2g x 32 cm gold chain
VMH3CS:
Max sens Normal and Mineral mode = nil response to chain. The clasp detected at 2 inches.
SDC 2300 Max sens in Normal and Salt mode = weak response at 1 cm. The clasp detected at 4 inches.

adrian ss

Contributor Plus





Number of posts

: 1474


Age

: 71


Registration date :

2015-07-03




---
Permissions in this forum:
You
cannot
reply to topics in this forum